News
Culture News in Brief: Tivoli adds a winter season to mark 175 years
---
This article is more than 5 years old.
Patti Smith at Heartland Festival, U2 at Royal Arena and the new DR series 'Liberty' make 2018 well worth looking forward to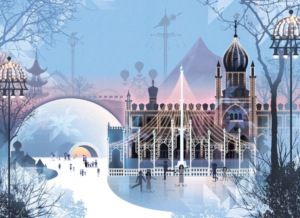 As part of Tivoli's 175-year celebration in 2018, there will be a number of special events to mark the milestone, including a new winter season this February and a big birthday party on August 15.
Open in February for Fastelavn
For the first time in its history, Tivoli will have four seasons: winter, summer, Halloween and Christmas.
Its doors will open from February 2-25, thus coinciding with the winter half-term break, Valentine's Day and Fastelavn.
Biggest ever parade
And then barely a month will pass before the opening of its summer season on March 24, which will from May 1 include the marching of its biggest ever parade.
The Tivoli Anniversary Parade will feature a contribution from the World Disney World Resort.
Big birthday planned
A lively summer will then conclude with Tivoli's 175th Birthday on August 15, the same day the New York City Ballet will commence a five-day run.
The summer season will finally end on September 23, giving Tivoli barely three weeks to prepare for Halloween (Oct 12-Nov 4).
The Christmas season (Nov 17-Dec 31) will include the return of the Tivoli version of 'The Nutcracker' (Nov 29-Dec 30).
READ MORE: Remembering Tivoli's founder: a showman with a fondness for champagne and jazzy waistcoats
---
New DR series honoured by Berlin nod
The first two episodes of DR's much talked-about drama series 'Liberty' will enjoy their worldwide premiere at the Berlin Film Festival (Feb 15-25) as part of the Berlinale Series Section, it has been confirmed. Set in Tanzania, the Sunday night drama series tells the story of two emigrant Scandinavian families in the late 1980s. The public should know by the end of the month whether DR has another hit on its hands, as a special press screening attended by prominent cast members Connie Nielsen and Sofie Gråbøl is scheduled to take place on January 25.
Reasonable reviews for debutant Danish director
'12 Strong', a newly-released Hollywood film made by debutant Danish director Nicolai Fuglsig, has received mixed reviews from the critics, landing it a respectable score of 59 on aggregate site Metacritic. Starring Chris Hemsworth and Michael Shannon, it details a US special forces mission in Afghanistan shortly after the 9/11 attack in New York in 2001. TheWrap hailed a "wryly funny, breath-stoppingly tense and uncommonly intelligent" film, noting that "its January dump is a disservice to a promising debut feature".
READ MORE: On Screens: Oscars just like Christmas: Start with a turkey!
Aros ahead of the pack in 2017 
Aarhus's status as European Capital of Culture helped its showpiece museum Aros to see off Louisiana as the most visited museum in Denmark. With 700,000 visitors, it attracted 40,000 more than the museum of modern art. Trailing home in third place was the country's national gallery, Statens Museum for Kunst, with 335,000, marking a 26 percent decline on 2015, its last year of free admission before it started charging visitors in 2016. Admittance costs 110 kroner for adults.
Packing them in for controversial film
'En frygtelig kvinde' ('A Horrible Woman'), considered by many to be one of Denmark's most controversial films in recent years, has now been seen by more than 100,000 people since its release on December 25 – proof that there's nothing the Danes like better than something taboo. Charting the relationship of a man with a manipulative, possessive woman, female film-goers from Copenhagen are the most likely to be offended, director Christian Tafdrup told DR. Apparently even his own girlfriend thinks he has been a little "naïve".
Prestigious role but no prestigious meeting
In an interview with the DR Aftenshowet, actor Søren Pilmark revealed that he did not actually meet Matt Damon, his co-star in 'Downsizing', a new film by Alexander Payne. The Dane plays the Norwegian inventor of a new way to save resources – reducing humans to the size of a finger so they consume less and require less living space.
U2 confirms performance date
U2 have confirmed they will be playing at Royal Arena as part of their eXPERIENCE + iNNOCENCE Tour on September 29. Tickets start at 650 kroner and go on sale at 10:00 at Live Nation on January 29.
Patti Smith signed up by festival
Heartland Festival, an annual music, food and culture event, has signed up iconic singer Patti Smith to appear at its 2018 edition. This year's festival at Egeskov Castle on Funen will take place from 31 May to 2 June. She joins a line-up that includes Mew, LCD Soundsystem, and Mø, while Salman Rushdie is the culture headliner.
READ MORE: Salman Rushdie making return to Denmark
Now looking good for 'Backstabbing for Beginners'
Per Fly's new English-language thriller, 'Dobbeltspil' ('Backstabbing for Beginners'), which stars Theo James and Ben Kingsley, has received mixed reviews from the normally partisan Danish media ahead of its international bow – an indication that it could bomb badly. While Ekstra Bladet and Kristeligt Dagblad gave it four stars, Politiken and BT opted for three, and Jyllands-Posten just two.