News
Schools, children, parents and social media – an incendiary mix
---
This article is more than 5 years old.
The debate about the best way to help children keep to the straight and narrow in today's exploding social media universe rumbles on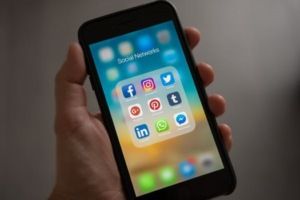 The recent sharing of compromising material on social media and the potential legal repercussions for more than 1,000 school children has led to a predictable amount of public hand-wringing.
According to a recent Red Barnet survey, one in ten children confessed to having taken a photo of a classmate in a state of undress and uploading it onto social media without their consent.
READ ALSO: Publishing risque photos becoming a norm among kids
When questioned, a number of the children who have uploaded compromising material have denied having malicious intent, but have admitted to being fixated on getting 'likes' and, through them, attaining social acceptance and status amongst their peers.
Schools enter the fray
So the central question remains: what can be done about this and is it a job for parents – or should schools take a more active part?
Some schools already seem to have picked up the baton. At Amager Fælled Skole there has been a focus on educating children on how to behave on the internet for a number of years now.
Pupils in the three oldest classes have a subject on the curriculum that comprises IT know-how, how to be a critical user of the media, and tuition on social media ethics, reports DR Nyheder.
One of the themes dealt with is the illegal sharing of intimate pictures and videos.
"As a school, we take web ethics and internet culture very seriously and we put a great deal of effort into making pupils aware that it is very bad to share offensive material," said school head Torben Højman Jensen.
A popular measure
And the pupils seem to agree. When 14-year-old Julie Nielsen was on a week-long field trip together with her class, pupils were not allowed to take their mobile phones with them. Julie felt that this was positive.
"It's crazy to think that you can be frightened of having your photo taken at a school week-long field trip just because you are together with your class-mates," she said.
At least the ban would hopefully ensure that she would not be the subject of embarrassing pictures that would circulate forever on social media. The school also has rules on the use of mobiles in school time.
More action needed from parents
However, parents must also take a more active part, argues one of the teachers at the school, Tina Westergaard.
"We have children who've been equipped with digital tools since they were perhaps five or six years old, and then we expect that they can just get on with it themselves," she said.
"When they cycle around in traffic, we don't expect them to have learnt the rules themselves, so we ought to look more introspectively: when we single out the children [for wrongdoing], there are nine fingers pointing at ourselves."
Westergaard adds that schools ought to discuss issues such as digital behaviour at parent's meetings.
Useful advice for parents …
A lot of parents feel out of their depth when it comes to these new technologies and perhaps ill-equipped to help their children.
Sanne Lind, a consultant from the children's organisation Børns Vilkår, offers three pieces of advice: talk to your child, don't get angry and be a good role model yourself on social media.
Children sometimes need to talk things through and need help setting up things such as closed profiles. It is also natural for parents to define limits and help their children get off to a good start.
Likewise, it is also important not to get angry when a child makes a mistake. A lot of people who have contacted the organisation's telephone hotline have said that it was difficult to talk to parents because they got angry, so the answer is to listen and talk to your children when they get into difficulties, Lind says.
… and a helping hand from DR Ultra
Almost on cue comes a new idea from DR Ultra – ostensibly a competition in which a group of children and young people have to compete to get the most 'likes' on social media, reports DR Nyheder.
One of the participants is 15-year-old Noah Lasmer Sørensen, who estimates that he uses at least four hours a day on social media.
"I use Snapchat, YouTube, Facebook, Instagram – a whole lot of different social media – so I'm really online," he said. The most important thing is to get 'likes' on the postings that he makes: for instance, pictures on Instagram, comments on Facebook.
"It's nice to get lots of 'likes'. It's a form of recognition and everyone wants that, don't they? That's why there are a lot of people chasing them."
Up the garden path
The 'competition' that Noah was taking part in together with a partner was to try and get as many 'likes' as possible for a picture of an anonymous person. This involved adding amusing comments and generally having fun with the picture.
However, the real person behind the picture was waiting in the wings and Noah and the other competitors were then introduced to her.
"The minute she appeared – it was terrible. Everything froze. I'd not reckoned on this at all. Then I had to talk to her and explain that it was not my intention to be nasty," said Noah.
A nasty taste
"We'd just made fun of a complete stranger on the net and then we had to meet her and talk with her. It's not okay to make fun of someone's appearance. They can't help looking like that. I had a really nasty taste in my mouth."
The program has definitely made Noah more aware of how far you ought to go on social media.
"On social media, there are a lot of people who post really bad things about each other because it is so easy. I wouldn't recommend anyone to be in [the situation that I was in], it's not at all nice – mostly because we had written some stupid things."