News
Research reveals massive pollution problems at Grindsted site
---
This article is more than 5 years old.
The pollution sins of previous generations are coming back to haunt us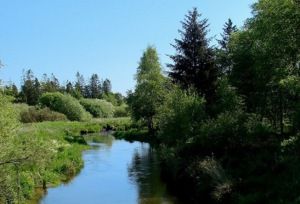 The clearing up of the site of what was once the Grindsted factory in Jutland, Grindstedværket, has long been a bone of contention. The factory was previously owned by Danisco but is now owned by the American chemical giant Dupont.
When production ceased in the 1970s, there were at least four depots with toxic chemicals left behind in Grinsted town – as well as the factory's own grounds. The pollution stemmed primarily from the company's production of sleeping pills, nerve medicine, vitamin pills and antibiotics.
READ ALSO: Hundreds of barrels of poison could be hidden in northern Denmark
New research from the Danish Technical University, DTU, has revealed that every year, at least 100 kg of carcinogenic chemicals leak out into the stream Grindsted Å, reports Ingeniøren.
Pollution on a global scale
"We're talking about a massive leakage – without a doubt one of the biggest in Denmark," said Poul Løgstrup Bjerg, the professor at DTU Miljø in charge of the research work. "Even by global standards this is a very large amount of pollution."
One of the reasons that this has not been noticed earlier is that better methods now exist for measuring amounts of pollution.
"Measurements have been taken over the last 25 years and the polluted area moves all the time. It is my belief that the pollution has moved nearer the stream and levels of leakage have reached a maximum, but they will continue for at least another 20-25 years," added Bjerg.
Anders Baun, another DTU professor who is an expert in evaluating the risks of chemicals, points out that "if it had been a company that had leaked chemicals of this type, it would have been stopped immediately."
No money to tackle the problem
However, the problem is that there is insufficient funding to deal with the pollution.
"I don't think that the politicians in Parliament have realised how costly the law governing polluted ground is," said the chair of the environmental council for the Southern Denmark Region, Jørn Lehmann Petersen.
"Previously, it was estimated that the clean-up of Grindsted would cost around 100 million kroner. That figure is no longer valid."
Petersen thinks that the current owner Dupont should pay for the clean-up, even though the polluted water was deposited there with the permission of the authorities.