News
Health News in Brief: A short sharp shock can be beneficial, winter bathers find
---
This article is more than 5 years old.
In other stories, children are more susceptible to greenery than first thought, AI look set to replace human researchers, and Prince Henrik is hospitalised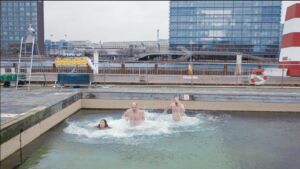 Winter bathing is increasingly becoming a Danish national pastime, with around 40,000 registered members at clubs across the country. But is it good for you and, if so, why?
An area of interest
Researchers at Copenhagen's main hospital, Rigshospitalet, have been trying to find out more, reports DR Nyheder. "Winter bathing is very interesting in relation to research on obesity and type-2 diabetes," said Susanna Søberg, a PhD student at the centre for active health at Rigshospitalet.
When water temperatures are nearly at freezing point, bathers receive a cold shock that is both exhilarating and stressful to the body.
"It's nice when everything starts pumping round the body. Even though I didn't sleep so well last night, I'm really 'on' now," winter bather Vita Larsen from Roskilde Vikings told DR after a dip at the recent winter bathing festival at Skagen.
Positives and negatives
Stress can have both positive and negative effects. "The stress response is not necessarily healthy – it can actually be dangerous," Søborg explained.
"However, studies indicate that oxidative stress is actually lower after the winter bathing season and antioxidant levels are higher again. It's as if the body can figure out a way to recover and find a balance."
---
Plants a boon to young children, study shows
Children, it seems, are more responsive to plants and greenery than might be expected. A new study carried out at Roskilde University shows that children as young as four respond favourably to plants, reports DR Nyheder. The study, carried out by Kim Rasmussen, involved giving a group of children at a kindergarten in Roskilde a camera for a year and asking them to take pictures of things that made them happy. "A consistent pattern observed among the children was that they photographed bushes, flowers and trees. I know children of school age respond favourably ro nature, but I had not expected to see this among four-year-olds," added Rasmussen. When asked why they had taken this type of picture, some of the children answered "because it is pretty" and "it makes me happy". Others studies have shown that children who have access to an outdoor life and green spaces are more physically active, play more across gender boundaries, move more freely, and are unwell less often.
Will researchers be supplanted by AI?
Artificial intelligence (AI) is already making inroads into our daily lives, as anyone with a smartphone with a 'personal assistant' or speech recognition can vouch for. The largest medicinal firms are also using robots to synthesise drugs and test them. The problem is that when it comes down to it, people are just too slow. When it comes to matters such as global warming, new infrastructure and thinking is urgently needed. "We need to develop new infrastructure and a methodology before we can fully automate research into, and the production of, clean energy technology," said Tejs Vegge from the energy department of the Technical University of Denmark, DTU. Vegge sees supercomputers combined with robots as the answer. The system might be asked to produce ten suggestions for synthesis based on existing data and then a robot could automatically produce these and suggest new ones. This is then carried on until a new product emerges. "The trick is that AI does not automatically discount combinations of materials that humans might find completely unthinkable – and it also works incredibly quickly," said Vegge.
Prince Henrik hospitalised again
Yesterday, the Danish prince consort was admitted to Copenhagen's central hospital, Rigshospitalet. The prince, who is 83 and suffering from dementia, had been in Egypt visiting friends since the beginning of January. Back in August, Prince Henrik underwent a series of tests at Rigshospitalet and a press release from the Danish Court statd that he has now returned for follow-ups and further tests.