News
Culture News in Brief: Norway wants Denmark to return valued artefact
---
This article is more than 5 years old.
In other news, Gustav Möller is returning with a film award and U2 and the Roskilde Festival have given fans a reason to return to the phone queue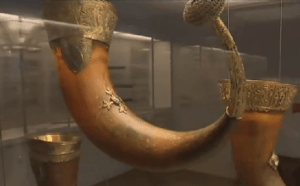 Support is building for the return of a Norwegian artefact, which has been held in Danish hands since the two countries' kingdoms united as one in 1380.
Kongshornet is a decorative horn not too dissimilar to the drinking vessels favoured by characters in the series 'Vikings', but with a little more bling.
Wanted for new Oslo museum
Asle Toje, the director of research at the Norwegian Nobel Institute, who is also an author, made the proposal in an opinion piece in Morgenbladet newspaper last week.
She argues it would be nice to include Kongshornet in the collection of Oslo's new national museum when it opens in 2020.
Ultimately a political decision
The Danish National Museum, the current home of the horn, has responded by saying it would be a political decision and that a formal request would be needed first.
Denmark and Norway were united under one crown until 1814 – a period often referred to by Norwegians as 400-årsnatten (the 400 Year Night).
---
New streets named after female singers
Copenhagen Municipality has confirmed that streets will be named after three 20th century female singers in Sluseholmen, a newly developed area in Copenhagen's south harbour district. The Bahamian-Danish gospel-jazz singer Etta Cameron, Danish pop singer Grethe Ingmann and Swedish singer and actress Monica Zetterlund have been honoured, as have a number of male jazz musicians, including Otto Brandenburg, Dexter Gordon and Thad Jones. Enhedslisten's Ninna Hedeager Olsen, the deputy mayor for technology and environment matters, said she hoped the naming would go some way to "reducing the inequality … when it comes to names of roads, places and parks in Copenhagen". The roads will officially open on March 1.
Danish film picks up Sundance audience award
Director Gustav Möller picked up the Audience Award in the World Cinema Dramatic Competition at the Sundance Film Festival for 'Den skyldige' ('The Guilty') on Saturday. Variety magazine has hailed "a high-concept, low-budget and skillfully muscle-tensing Danish thriller to which you can imagine more than a couple of eager Tinseltown execs angling for the remake rights". The film tells the story of a police officer dealing with a developing crime from his seat in an emergency call centre. It saw off a strong field that included another Danish entry, Isabella Eklöf's 'Holiday'. Danish films had previously won the award twice this century. Susanne Bier's 'Brødre' ('Brothers') triumphed in 2005 and Mads Matthiesen's 'Teddy Bear' in 2012. The film will be released in Denmark on June 14.
Let's talk about sex … and masturbation, children
Hot on the heels of a school textbook accused of comparing circumcision to baptism comes a new children's book that addresses love, sex and masturbation. Sabine Lemire's book 'Hvad er sex' is aimed at 10 to 12-year-olds and includes drawings by Rasmus Bregnhøi, a well-known children's book illustrator. He told Politiken that Lemire principally wanted to convey that sex is not dangerous. "It's for children who have not started to have sex yet, but have started to become interested in what sex is," he said. "We have tried to make the book informative without being too complicated or vulgar."
U2 adds second concert, Sir Elton confirms his next tour will be his last
U2 have announced an extra concert at Royal Arena on September 30 as part of their eXPERIENCE + iNNOCENCE Tour, after tickets quickly sold out for the band's concert one day earlier. Tickets will go on sale on February 2 at 10:00 via livenation.dk and ticketmaster.dk with a limit of four tickets per customer. Meanwhile, Elton John, who is now 70, has confirmed his next global tour will be his last, meaning it is likely his appearance at the Royal Arena on 18 May 2019 will be his last performance in Denmark.
Tickets selling fast for Roskilde following Eminem announcement  
The Roskilde Festival has already sold out of his Wednesday one-day tickets following the announcement on Monday that Eminem will be performing this year on July 4. Full festival tickets are also selling fast. Other headliners include Gorillaz, Cardi B, Bruno Mars, David Byrne, Stormzy, Nephew, Alex Vargas, Benal and First Aid Kit.