News
News in Brief: Police officer peppersprayed in Christiania
---
This article is more than 5 years old.
In other stories, shallow lakes contribute to global warming and two tragic drownings are reported over the weekend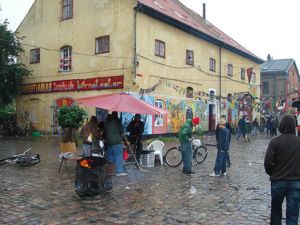 In an attempt to escape capture, a 25-year-old man used a pepper spray on a policeman in Christiania on Monday evening. The man, who has a previous conviction for violent behaviour against the police, is now in custody, reports DR Nyheder.
When the police officer tried to check the man, "he sprayed the policeman in the face with a pepper spray and tried to escape on a bicycle," said Commissioner Simon Hansen from Copenhagen Police.
READ ALSO: Homeowners should be allowed to use pepper spray, opposition says
A colleague came to the policeman's aid and the man was apprehended after trying to run the policeman down and punch him. During his flight, the man threw a bag away that was subsequently found to contain 700 joints, skunk, cannabis oil and 5 kilos of other cannabis.
"In the last couple of months we've noticed an increasing tendency for people we suspect of dealing drugs in Christiania to resist violently and use these kinds of methods when we try to apprehend them," said Hansen. The man has denied the charges and said he will make no further comment.
---
Shallow lakes are potential methane factories
The warmer climate coupled with fewer water plants is causing more methane to be released into the atmosphere from shallow lakes in agricultural areas, concludes a new study carried out at Aarhus University's institute for bioscience and the Arctic research centre. Methane is a greenhouse gas with an effect 25 times greater than CO2 when it comes to global warming. There is a growing understanding that shallow lakes play a very important part in the release of greenhouse gases globally, and there are a huge number of them. In agricultural areas, nearly all these lakes have increased levels of nutrients from fertiliser run-off, and that causes a lower biodiversity amongst water plants. The study used an artificial lake where the researchers were able to regulate temperature and the amount of nutrients to see how they influenced methane emissions. "The results were striking and showed that the combination of the extra strain caused by the nutrients plus a warmer climate really had a great effect on the amount of methane that bubbled up from the bed of the lake," said senior researcher Thomas A Davidson.
Danish animator found drowned in Christianshavn
One of the leading lights in the Danish animated film world, Cav Bøgelund, drowned on his way home from a party at the Danish film school early on Sunday morning, reports Politiken. Bøglund, who was 39 years old, was found dead in the water at Christianshavn. The animator and director was best known for his 2014 semi-documentary animated adult film 'Våbenbrødre' (brothers in arms) about Danish soldiers stationed in Afghanistan, which was nominated for a Robert award. Bøgelund had been suffering from serious depression recently and had been candid about it on social media. In one of his final Facebook posts he talked about being back in hospital to "get electricity in the brain".
Youth drowns after party in Ringkøbing
A 20-year-old high school student who had been reported missing early on Saturday morning was spotted by a helicopter in low water in an area of reeds at the northern end of Ringkøbing Fjord, reports DR Nyheder. The student, who had been to a school party earlier in the evening, was last seen at around 02:00 on Saturday outside Shooters Bar in Ringkøbing. Around 400 local people had been helping the authorities to look for him. When the body was recovered the boy's parents confirmed his identity. There is no suggestion of foul play and the police are treating the case as a tragic accident.