News
Business News in Brief: Sulphur pollution still a problem in Danish waters despite new legislation
---
This article is more than 5 years old.
The news hasn't been great for Microsoft Denmark and four Uber drivers fighting fines, but Ørsted and Netflix have plenty of reason to cheer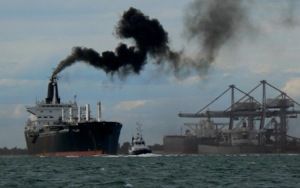 Seven shipping companies have been fined for violating new legislation regarding sulphur emissions, which were introduced in January 2015, and the environment and food minister, Esben Lunde Larsen, would like to see the number reduced.
A further 14 shippers have also been under scrutiny by the authorities.
Badly informed
Larsen believes that many are unaware that the sulphur limit in fuel is now just 0.1 percent in Danish waters, and that the shippers could be better informed.
The fines, which have ranged from 30,000 to 375,000 kroner, tend to reflect the savings the companies make by having a higher percentage.
---
Bumper year for Ørsted
Ørsted has announced an operating profit of 22.5 billion kroner for 2017 – an increase of 18 percent on last year. As well as continuing with its policy to divest its oil and natural gas holdings – it accordingly changed its name from DONG (Danish Oil and Natural Gas) Energy in the early autumn – it has also made healthy profits selling shares in offshore wind farms, resulting in an overall profit of 20.6 billion kroner for its wind energy division
Steady performance from Novo
Novo Nordisk has confirmed an operating profit of 49 billion kroner on turnover of 112 billion for 2017 – figures on a par with the previous year once currency conversions are taken into account. Nevertheless, last year included some excellent news in the form of US approval for its new diabetes treatment Semaglutid, which is expected to annually generate 11.6 billion kroner by 2020. Meanwhile, Novo chairman, Göran Ando, has confirmed he will stand down at the AGM in March, and Karsten Munk Knudsen will soon replace Jesper Brandgaard as CFO, who will now take over as the director of both the biopharma division and the legal department.
READ MORE: Novo Nordisk's big hope green-lighted in the US
Tax Ministry in transfer pricing dispute with Microsoft
The Tax Ministry is involved in a transfer pricing dispute with Microsoft Denmark. It believes the company should pay 307 million kroner in relation to corporate internal transactions across national borders carried out between 2004 and 2007, which allegedly involved an Irish affiliate company. The case will be heard at the eastern high court, Østre Landsret, this week.
Danske Bank to provide banking overview system
A quarter of Danske Bank customers have accounts with other banks, and Denmark's biggest operator has confirmed it is on the verge of offering these customers an overview of all their holdings. According to Lars Malmberg, the director of business development, such an overview is high on their wish list, and a service should be ready before the summer. When DR questioned whether Danske Bank might use the extra data gathered from the customer's other accounts, Malmberg underlined that the bank would not use the data without the customer's consent.
Uber drivers intend to take test case to Supreme Court
Following last week's decision by the eastern high court, Østre Landsret, to uphold fines given to four Uber drivers last August, which related to money they earned in 2014 and 2015, the group have confirmed their intention to take the case to the Supreme Court, providing they can get a third-party grant. The drivers were fined between 40,000 and 486,000 kroner. As an unprecedented case, the defendants question the size of some of the fines along with the uncertainty over whether Uber is illegal. Once the test case is settled, a further 1,500 Uber drivers face similar fines.
READ MORE: Former Uber drivers handed uber-fines for illegal taxi driving
Netflix customers undeterred by price hike
Danish customers were not been put off by Netflix raising its prices last summer, media consultant Keld Reinicke has told DR. In fact, increasing numbers are subscribing to the HD and Ultra HD services, which cost 99 and 129 kroner a month. A standard subscription now costs 79 kroner following a 10 kroner rise last summer. Later this year, Netflix will stream its first original Scandinavian series, 'The Rain'.
Øresund Bridge's solar power ambitions take another step
Øresundsbro Konsortiet has awarded a 2 million kroner contract to two Danish energy companies, SolarFuture and Solarpark DK, as part of its plans to service some of the Øresund Bridge's energy needs by solar power. The companies will build a 250 kW PV system on a 1,500 sqm area owned by Danish-Swedish company SVEDAB, which is a member of Øresundsbro Konsortiet. Eventually, the generator's capacity will increase to 700 kW, at which point it should be taking care of 10 percent of the energy needs.