News
Police murderer Palle Sørensen dead at 90
---
This article is more than 5 years old.
Career criminal's cold-blooded execution of four officers in Amager in 1965 shocked a nation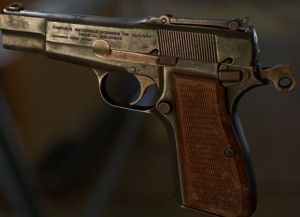 Palle Sørensen, the Dane who shocked the nation when he murdered four policemen in cold blood in 1965, has died. He was 90 and had been out of prison since 1998.
Friday 17 September 1965 is a day deeply etched in the memory of a whole generation of Danes. The habitual criminal shot four policemen at close range with his hitherto unused Browning P35 semi-automatic handgun. The act directly led to the arming of Danish policemen.
Expert safe cracker
In his early criminal career, comparisons could perhaps be drawn with small-time movie criminal Egon Olsen from the Olsen Band films. In 1949, fresh out of juvenile detention, he cycled from his parent's apartment in Amager to the offices of the Dansk Arbejdsmandforbund, now 3F. Using stolen explosives from the limestone quarries of Faxe, he blew a safe open with a deafening bang and made off with 130,000 kroner in used 50 kroner notes and 2 kroner coins.
Cycling home with his booty on the back of his bike, he had time to stop off at the baker's for a loaf of bread, while police cars were speeding around in search of the perpetrators. Newspapers at the time believed that the coup must have been the work of a highly-organised international gang. In reality, it was a one-man job masterminded by expert safe cracker Palle Sørensen.
Palle Sørensen wasted no time luxuriating in an extravagant spending spree. A sum of 130,000 kroner was, after all, the equivalent of 17 years' salary for a manual labourer. Among his purchases were two cars including a Mercedes and a number of boats including one 34 feet in length. But the money inevitably ran out and a series of burglaries and a botched insurance swindle on the Mercedes led to a swift return behind bars.
Fascination with guns
In and out of prison over the next five years, he was the subject of a 1958 Ekstra Bladet article that described him as a lock-picking genius, but what the journalist failed to uncover was his true secret passion in life: a deep fascination with guns. Sørensen had quite an impressive collection tucked away in his mother's basement.
Palle Sørensen's efforts at going straight were successful for a while. He made use of his considerable technical abilities in a job at a factory making aerials for the military. However, a chance encounter in 1964 with Norman Bune, a fellow ex-inmate from Horsens Prison, ended up leading him irretrievably and ruinously back on the road to crime.
Trading his flashy Cadillac for an anonymous old battered rusty Simca, Sørensen together with Bune found a niche criminal sideline breaking into shops and factories, stealing cigarettes, alcohol and coffee, and selling the proceeds to a local Amager kiosk. One fateful night, disappointed by a fruitless break-in at an undertaker's, the unstable Bune had the bright idea of heading off to the undertaker's private property. It was one broken door too many and the owner heard then, caught them in the act, and alerted the police as they sped off into the Amager night.
On the run and cornered
Patrols were instructed to look out for the felons and the car was soon spotted by two 24-year-old fledgling police officers, Gert Søndergaard Harkjær and Henning Skov Hansen. It was a short-lived car chase and the Simca was easily forced over to the side of the road.
A tense Sørensen then wasted no time in sprinting out of the car. He pulled out his prized possession, the Browning P35, from its shoulder holster and executed the defenceless policemen in cold blood, giving them both an extra bullet to make sure.
Speeding away they were noticed and overtaken by two more policemen: Elmer Gert Jeppesen, 24, and Aksel Dybdahl Andersen, 28. Unaware of what had happened, Jeppesen made his way over to the car and was immediately gunned down. And then Andersen was brutally murdered as he tried to climb out of the car. In all, 15 bullets had been fired of which 12 hit their intended target. A truly horrendous crime had been committed and Sørensen went into hiding.
A life in prison
Two days later he turned himself in and, after initially declaring his innocence, he quickly confessed and was subsequently sentenced to life imprisonment. While he was waiting to be sentenced, he could hear the faint tones of hymns from an adjoining cell. The emotionally charged state funeral for the four policemen was being transmitted live on television to a shocked and grieving Denmark.
By this point in his life, Sørensen had already spent 11 years in prison, but what he did not know was that it would be another 32 years before he would be a free man.
Held in isolation for the next 11 years in the tiniest of cells, Sørensen, a natural loner, went on to break several Danish incarceration records. The name Palle Sørensen had absolutely not been forgotten and a series of applications for release or pardon were firmly rejected.
In 1990, the justice minister, Hans Engell, turned one down on the grounds that Sørensen was still at risk of committing grievous bodily harm. And then one of his successors, Erling Olsen, also brushed aside the question in 1993, stating that he would not and could not release him until he had a clear guarantee that Sørensen would never again commit any murders.
Behind the political curtains, feelings still ran high in the upper echelons of the police union. They clearly felt that life meant life in Sørensen's case and strenuously blocked Sørensen's bid to become a free man. Appeals for release, for example, coincided with police-arranged exhibitions of photos of the murders and a memorial service with policemen in full uniform.
Released under Frank Jensen's watch
A breakthrough came in 1995 when he was transferred to an open prison, incurring the wrath of rising politician Pia Kjærsgaard via a persistent series of official questions to the justice minister urging him to ensure that this move would not pave the way for release.
In January 1998, the current mayor of Copenhagen, Frank Jensen, was justice minister and he came to the conclusion that "Palle Sørensen is an elderly man … who has committed an unforgivable crime. But if the overall impression of him is unchanged by the beginning of spring, then I am of the opinion that enough is enough."
On 4 May 1998, after 32 years and 8 months in prison, Palle Sørensen was released. And for the last 20 years of his life, Sørensen led a quiet life in Valby, only troubled by the occasional news-hungry journalist or angry elderly lady with a long memory.
In an interview with Frank Bøgh, author of the book 'Palle Sørensen – Politimorder', Sørensen confessed he was still fascinated by safes. Bøgh recorded how he shook his head at how the fictional Egon Olsen miraculously managed to open safes by listening and twiddling the knob.
"I was good with safes" he said. "Sometimes it was as if the safes just opened up by themselves. I seemed to have almost magical powers."