News
A third of Danes believe a nuclear conflict is likely this year
---
This article is more than 5 years old.
Expert confident the current escalation is merely hot air of a non-atomic variety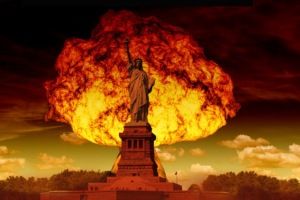 Nobody has yet built a shelter in their garden or basement. That would be tricky, as most of them tend to be communal in Denmark. But according to a recent poll, almost a third of the country fears there could be a nuclear war within the next year.
Cold War fears returning
It might not be the kind of escalation we all envisaged growing up during the Cold War, with a four-minute warning giving you just enough time to locate your childhood sweetheart and finally tell her how you feel.
In this case, 31 percent of Danes specifically believe that growing tensions between North Korea and the USA will lead to the use of nuclear weapons.
So, it would be a conflict of sorts, but hopefully not World War III. Nevertheless, a nuclear weapon has not been used in an act of war since the bombing of Nagasaki in 1945.
Expert confident it won't happen
Fortunately, Liselotte Odgaard, an expert attached to the Forsvarsakademiet , was at hand to soothe Metroxpress's momentarily alarmed readers with her opinion that "the threat is very, very small".
"Much of what we hear is rhetoric and designed to deter the other party from doing anything," she said. "Nothing so far has suggested a real will to use weapons – and especially not a nuclear weapon."
The US could not afford the human capital, she said, adding that for North Korea such a war would be a "death sentence".
Roll on the Olympics
The survey, which was conducted by YouGov for Metroxpress two weeks ago, also found that 40 percent disagree there will be any conflict, and 28 percent did not know.
Only 6 percent vehemently believe the world is imminently heading towards a nuclear war, but only 19 percent firmly disagree.
And just in case you were wondering, the survey was conducted between January 19 and 21, two to four days after it was confirmed North and South Korea would be entering a joint ice hockey team in the Winter Olympics, which start in PyeongChang on Friday.