News
Island-hopping: Refshaleøen to succeed Papirøen as host of Copenhagen Street Food
---
This article is more than 5 years old.
Party island to be rebranded 'Reffen' as part of the move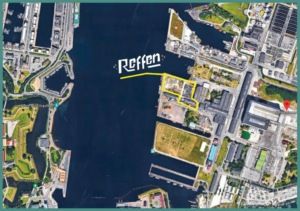 Fans of Copenhagen Street Food, which left Paper Island (Papirøen) at the end of 2017, will not have long to wait before they can once again savour the taste of a pulled duck burger.
Plans are afoot to transform part of the party island of Refshaleøen into a thriving new hub for food, art and crafts.
The newly-designed area is set to open in May 2018, relaunched under the new moniker 'Reffen'.
Food for thought
Copenhagen Street Food will take over and renovate a 1,042 sqm warehouse known as 'Maskinværkstedet' (engine repair shop), which will house a range of food and drinks venues, with the capacity to cater to 1,150 guests.
Organisers hope the new Reffen location will do more than satisfy visitors' hunger. Rather, planners describe the future site as a "creative playground"  where gastronomy will combine with entrepreneurial endeavours, pop-up projects and large cultural events.
Most of these activities will take place on land adjoining the main building, where metal shipping containers will accommodate a range of mobile food stalls (food trucks, bike kitchens etc) and design workshops (clothes-makers, carpenters, hairdressers etc).
In total, Copenhagen Street Food will occupy an area over 10,000 sqm in size – three times the size of the previous site on Paper Island.
Refshaleøen reimagined
Though Refshaleøen's historic shipyard was abandoned as an economic interest by Burmeister & Wain in the late 1980s, in recent years the site has seen a steady increase in commercial activity.
For example, it hosted the 2014 Eurovision Song Contest and has also become the favoured venue of Distortion's weekend parties. Additionally, the Haven Festival, which combines music, art and food, was launched on Refshaleøen in 2017 and will once again return to the same location in August 2018.
Other businesses established as permanent fixtures include: 'Blocks and Walls' (rock-climbing centre), the 'Paintball Arena' and 'Bungyjump Copenhagen'.
Nevertheless, the large scale of Copenhagen Street Food's plans marks a change in direction for the largely uninhabited district.
Designed with the intent to attract large numbers of both national and international visitors, 'Reffen' will no longer be seen as a peripheral district in the eyes of Copenhagen residents once the new centre opens in May.
With its new addition, the area looks set to rapidly grow in status, wealth and prominence.