News
DFDS expands activities in the Baltic
---
This article is more than 5 years old.
The Danish shipping company has long had eyes on more than just the Oslo route and is increasing its services still further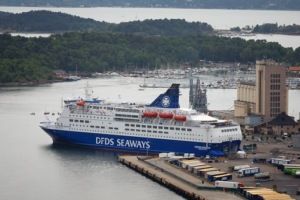 Every year, over 5 million passengers sail on DFDS vessels in Europe.
In the Baltic alone, the company has transported more than 200,000 passengers from Sweden to places such as Lithuania and Estonia, as well as between Germany and Lithuania, reports Standby Denmark.
READ MORE: Government launches ambitious growth plan for shipping sector
Belief in the future
The company has now decided to expand its routes in the Baltic even more. Two new RoPax combined freight and passenger ships have been ordered in Chinese yards at a cost of 1.8 billion kroner to enter into service in 2021. The ships will be able to accommodate 600 passengers each.
"This investment reflects our belief in the continued strong expansion in the Baltic region," said the CEO of DFDS Niels Smedegaard.
The ships will be built to the latest environmental standards regarding fuel consumption and emissions.
"They [the new ships] will make it possible for us to improve our service to all our customers and at the same time, make the route network more effective – also from an environmental standpoint," added Smedegaard.