News
Au revoir Henri: Prince Henrik dies at 83
---
This article is more than 5 years old.
From Vietnam and Algeria to Fredensborg, the late Prince lived a full and interesting life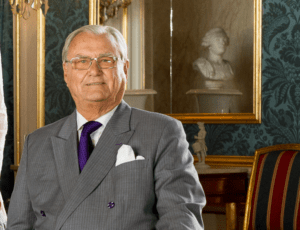 Prince Henrik died late last night at 23:18 at Fredensborg Castle, surrounded by his wife Queen Margrethe II and his two sons – Crown Prince Frederik and Prince Joachim.
Yesterday, the Royal Family revealed that Prince Henrik had been transferred from city hospital Rigshospitalet to Fredensborg Castle to spend his final days in peace with his family.
Prince Henrik, who had been suffering from dementia, had been hospitalised since January 28, when he was admitted for tests and follow-ups to his hospital stay in August last year.
During the previous week and following the news of his sudden deterioration in health, a number of family members rushed to Copenhagen to pay a visit to the ailing husband of Queen Margrethe II.
Among those to visit included Crown Prince Frederik, who cut short his visit to the Winter Olympics in South Korea, which he was attending in his role as an IOC member.
READ MORE: Prince Henrik returns home to spend final days
Interesting life
Born in Talence, France in 1934, Henri spent his early years in Vietnam before returning to the family estate in Le Cayrou, France in 1939.
Until 1947, Henri attended a Jesuit school in Bordeaux before graduating from secondary school in Cahors in 1950. He then moved to Hanoi where he studied until 1952. He then moved back to France to study law and political science near Sorbonne in Paris, as well as Chinese and Vietnamese at the École Nationale des Langues Orientales. He later also studied oriental languages in Hong Kong and Saigon.
After serving in the military in Algeria in 1959-62, he was employed in the French foreign ministry's Asian department, and from 1963-67 he was a secretary at the French embassy in London.
Into Danish hearts
But on 10 June 1967, he took the biggest step of his life and leapt into the hearts of the Danes, marrying the Danish Crown Princess Margrethe II and from then on, Henri de Monzepat became known as Prince Henrik of Denmark.
The Royal Couple went on to have two sons, Crown Prince Frederik (1968) and Prince Joachim (1969), who eventually gave him eight grandchildren.
Aside from representing Denmark in exemplary fashion over the past decades, Henrik enjoyed spending his spare time producing his own wine on his estate in France, as well as writing poetry, some of which has been published. He officially retired from his Royal duties on 1 January 2016.
Flags will be flown at half mast from today and until February 20 and from 09:00 – 17:00 during this period it will be possible for the public to sign a book of condolences at the gate of the Det Gule Palæ in Amaliegade 18 in Copenhagen.
The Royal House also announced an official period of mourning that will last until March 14.
Prince Henrik – (Henri Marie Jean André de Laborde de Monpezat) 
1934 -2018