News
Prince Henrik's final journey
---
This article is more than 5 years old.
People gathered today to pay their respects to the late husband of Queen Margrethe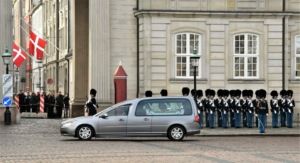 Earlier today, the body of Prince Henrik was transported from Fredensborg Castle in North Zealand to the Amalienborg Palace in Copenhagen for a funeral service.
A convey of vehicles arrived at Amalienborg at 11 am carrying members of the royal family. Over a thousand people lined the streets to pay their respects to the late Prince, who died on Tuesday night.
Many of those present came with flowers and letters and laid them at the base of 'Shack's Palace', on the south corner of the site.
After the service was completed, members of the royal family came out to inspect the letters of condolence and gifts that had been left.
The Prince spent the last few days of his life in hospital after returning home from Egypt last week. At his request, his ashes will be spread at sea and in the garden of Fredensborg Castle.
"He's not just been here, he's been Henrik"
Those who attended the occasion felt compelled to come for a variety of reasons. Steen from Copenhagen brought his young family, and described how he wished them to understand the dedication the Prince's brought to his role.
"Prince Henrik did a tremendous amount of work for our nation and to respect and honour him, I wanted to come out today," he said. "It's important that they [the children] understand our culture and our heritage, which is symbolized by the royal family and the late prince," he suggested.
Others stressed how Prince Henrik had become an important part of their lives, due to the strength and companionship that he had shown to other royals.
"He's been very important for the royal family in general and for the Queen. He's been there for my entire life and he's just been part of the whole royal family," said Anina from Copenhagen. "He's been very colourful – he's been a personality that you will never forget. He's not just been here, he's been 'Henrik'."