News
Business News in Brief: Danish pizza restaurateur vows to fight for right to keep name
---
This article is more than 5 years old.
In other stories, US bank buys Danish, Ørsted gets fresh wind in Taiwan and shopping doldrums predicted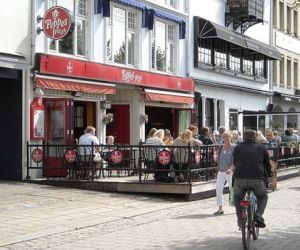 For 20 years there has been a Peppes Pizza restaurant on Jernbanegade in Næstved. Now, the big Norwegian chain Peppes Pizza has contacted the owner Erhan Kekec through lawyers with a demand that he change the name of his restaurant, TV2 Nyheder reports.
The owner professed himself extremely surprised to received the letter. "The restaurant has been called Peppes Pizza ever since the 90s, so it seems very strange that they suddenly come along 20 years later and make such a demand," he said.
The Norwegian chain, that employs 2,500 staff, alleges that it has the legal rights to the name Peppes and it has also been after several restaurants in Norway with similar names with the same demand.
Among other things, lawyers for the chain claim that "Our clients regard the use of Peppes for a pizza restaurant as trading on our client's well-known name and brand. Likewise, your use of Peppes is likely to cause damage to our client's goodwill and reputation."
This is not the first case of this kind in Denmark. In 1996, a sausage stand owner was sued by McDonalds for using the name McAllan on his stand. The burger chain lost when the case came to court. Four years ago, Jensens Bøfhus stopped a fish restaurant in Sæby using the name Jensens. The owner, Jacob Jensen, lost the case but gained public sympathy; so much so that for a time, there was a boycott of Jensens Bøfhus.
---
Goldman Sachs on Danish shopping spree
The US investment bank Goldman Sachs, which had previously owned a large slice of the Danish oil and gas company DONG (now named Ørsted), has not lost its appetite for Danish businesses. Together with Coller Capital, the bank has bought nine companies from the private equity investor Nordic Capital and two of them are Danish, reports TV2 Nyheder. On the acquisitions list are Bladt Industries, a manufacturer of platforms to the offshore oil industry, and sports goods chain Sportmaster. The total cost of the nine companies is 17 billion kroner.
Go-ahead given for wind turbine project in Taiwan
The Danish company Ørsted has just been given government approval for a contract to build four offshore windfarms in Taiwan totalling 2.4 gigawatts. Between 218 and 301 wind turbines will be erected in order to reach the desired capacity. The project has now been greenlit by the Taiwanese environmental protection administration, reports TV2 Nyheder. "This is an important milestone for Ørsted's expansion in Asia and to help realise Taiwan's ambitious energy goals," said the CEO of Ørsted Wind Power, Martin Neubert.
Shops dying off all over Denmark
According to a study carried out by the Institut for Centerplanlægning ICP, over the next 10 years around half of the 109 commercial towns (or handelsbyer) in Denmark will have experienced a dramatic decline in their shopping options, reports Politiken. A handelsby is defined as one in which the assortment of shops enables its citizens to do all their shopping there without going further afield. The ICP's worst-case scenario predicts that the number could be as low as 29 left in 10 years. Whether it ends up as a best- or worst case scenario depends on how big a share of trade moves to the Internet. In the best case, 30 percent of trade will be done online by 2030, in the worst case 50 percent.
Falling house prices in Malmö
Over the last month, house prices in the Swedish city of Malmö fell by 1 percent for detached houses and 2 percent for tenant-owned flats, reports News Øresund. This compares to an average 1 percent fall in prices for both kinds of dwellings across the country, with some regional differences. House prices in Malmö have been going up and up in price, but this trend seems now to have ended. As Malmö is just across the bridge from Copenhagen, a number of Danes have relocated there and there are a lot of commuters in each direction.