News
Unprofitable catches illegally thrown overboard, study shows
---
This article is more than 5 years old.
At the same time as there is an increasing spotlight on waste, large quantities of potential food are being dumped by Danish trawlers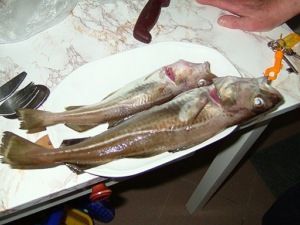 Three years ago, new EU rules entered into force prohibiting fishermen from throwing fish that are too small to be landed and sold profitably over the side.
READ ALSO: Fishing is now a nice little earner for Danish trawlermen
However, research carried out by the Technical University of Denmark (DTU) for DR has shown that many fishing boat crews are ignoring these rules.
In the Baltic last year, 1,300 tonnes of cod alone was thrown overboard – most of it dead, reports DR Nyheder. This equates to around 10 percent of the total cod catch in the Baltic.
More problematically only 14 tonnes were reported to Fiskeristyrelsen, the Danish fishing authority, although all fishermen are legally obliged to keep a logbook and note down their catches as well as the fish they throw overboard.
So far, over the last three years, only two fishermen have been fined for breaking the law, according to information provided by the fishing authority to DR Nyheder.
A quota-based dilemma
If landed, the small fish can only be used for making products such as fishmeal or fish oil, so don't pay nearly as well. At the same time they count towards a fisherman's quota, so it can be quite tempting to throw them overboard and try for bigger, more lucrative fish.
Experts agree that this is extremely problematic because it can lead to overfishing and a consequent depletion of vulnerable fish stocks.
The data collected was based on systematic monitoring and included the researchers going out on fishing trips.
"On all the trips we've been on, throwing fish overboard that ought to be landed still went on. They were certainly not obeying the law," said chief fisheries consultant Jørgen Dalskov from DTU.
"It's obvious that if every year you catch more than you've predicted, it will have a negative effect on fish stocks in the long run," added Dalskov.
Larger meshed nets wanted
One way of avoiding this overfishing – and subsequent dumping – is to use nets with larger mesh than are required by law. Some fishermen are already doing this.
Svend-Erik Andersen, the chair of Danmarks Fiskeriforening, the Danish fishermans' organisation, admits that there are some people who don't obey the law.
"They've completely turned the rules regarding the protection of small fish upside down. Previously, you were obliged to throw them back; now you have to land them, even if they are alive," said Andersen.
He argues that fishermen need time to adapt to the new rules.
The fisheries minister, Karen Ellemann, has also criticised the practice. "We have to put a stop to people who, when they catch smaller fish that they can't get a good price for, throw them back for economic considerations," she said.