News
Measles on the rise again in Europe
---
This article is more than 5 years old.
Falling vaccination rates leave people vulnerable to a disease that seemed to be on its way out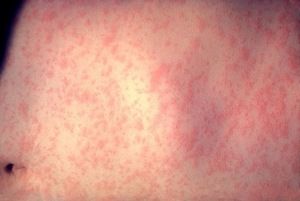 When it comes to the recorded incidences of measles, data recently collected by the World Heath Organization (WHO) makes disturbing reading.
In 2017, 21,315 people caught the disease in the European region, resulting in 35 deaths. This is compared to a record low of 5,273 cases the previous year.
"Every new person affected by measles in Europe reminds us that unvaccinated children and adults, regardless of where they live, remain at risk of catching the disease and spreading it to others who may not be able to get vaccinated," said Dr Zsuzsanna Jakab, WHO's regional director for Europe.
Denmark unchanged
The situation in Denmark is a little different. Last year, there were four cases registered by Statens Serum Institute (SSI) – an increase of only one on the previous year. In contrast, 85 cases were registered in 2011 and this figure fell to 27 cases in 2014 and then further down to nine in 2015. In September 2017, Denmark was officially considered to have eliminated the disease.
There could be a danger that the social media and celebrity-driven trend against vaccination could change all that. The SSI reports that 86 percent of Danish children born in 2012 were vaccinated for measles, mumps and rubella – a rate slightly below that of the previous 15 years during which 88-90 percent were vaccinated.
Raising public awareness
The WHO is taking action to stop the current outbreaks and prevent new ones in several ways, including raising public awareness, immunising healthcare professionals and other adults at particular risk, addressing challenges in access, and improving supply planning and logistics.
However, a number of European countries have recently seen declines in overall routine immunisation coverage, consistently low coverage among some marginalised groups, interruptions in vaccine supply or underperforming disease surveillance systems.
A priority goal
"The elimination of both measles and rubella is a priority goal that all European countries have firmly committed to – and a cornerstone for achieving the health-related [UN] Sustainable Development Goals," continued Jakab.
"This short-term setback cannot deter us from our commitment to be the generation that frees our children from these diseases once and for all."
But outbreaks will continue to occur until every susceptible child and adult is protected.
Today, under the auspices of the WHO, health ministers from 11 countries will meet to discuss working together to achieve the goals set out in the European vaccine action plan by 2020, including measles and rubella elimination.