News
Queen breaks silence to thank the Danish people for their compassion
---
This article is more than 5 years old.
Queen Margrethe II pens a letter to her subjects to tell them how touched she is with their response to the death of her husband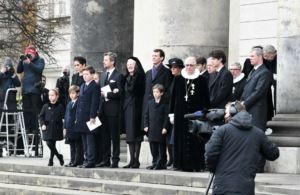 Queen Margrethe II has written a letter of thanks to those who have expressed their condolences following the death of her husband, Prince Henrik, on February 13 – her first statement since his passing.
READ MORE: Queen Margrethe and Royal Family bid farewell to Prince Henrik
Released via the Royal House's website kongehuset.dk, she said it had been "deeply moving to experience the warmth and sympathy that has flowed from all parts of Danish society to us in connection with Prince Henrik's death".
Touching tributes
Since the prince consort's death last week on Tuesday, there has been an avalanches of tributes in the form of countless card and flowers.
First they were delivered at the royal residence where he died, Fredensborg Castle in northern Zealand, then at the city palace his body was moved to, Amalienborg, and then finally at Christiansborg Slotskirke, where he lay in a closed casket over the weekend before being commemorated at a funeral service on Tuesday.
A pillar of strength
The queen praised "the many beautiful flowers laid spontaneously down at the places where the prince was, the many thousands of people from far and wide who braved the winter cold … and the countless written sympathetic expressions".
"It has touched us all deeply and been instrumental in helping us through this difficult time," she concluded.
An official period of mourning will continue until March 14.