News
Copenhageners taking to the new system for sorting biowaste
---
This article is more than 5 years old.
Rubbish sorting and recycling is a successful growth area for Denmark's capital – as well as being good for the environment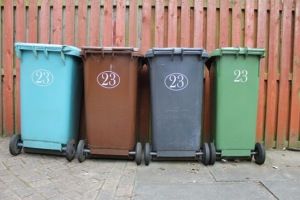 For some time now, households in Copenhagen have had to sort rubbish into various categories so it can be recycled.
Wheelie bins for paper, glass, metal and plastic have been a common sight on suburban streets and in the courtyards of flats for several years now.
And since autumn last year, optional biowaste sorting has been added to the list.
READ ALSO: Copenhageners to sort food waste for recycling
Somewhat to the surprise – and delight – of the municipality, new figures from the municipality's technical and environmental management department, Teknik- og Miljøforvaltning, reveal that Copenhageners have responded enthusiastically to the challenge, reports Politiken.
A lot of popular backing
In August last year, 188 tonnes of biowaste was collected, but by December this had risen to 1,066 tonnes.
A large number of people have got behind the scheme, and this year it is expected that 14,000 tonnes will be collected, which is 30 percent more than the municipality had anticipated.
"We had reckoned on a relatively slow beginning because people don't take to every new scheme from day one," said Merete Kristoffersen from the municipality's resource and rubbish department.
The collected biowaste is converted into biogas that can be used as an energy source, and the waste products from this process are given to farmers to use as fertiliser.
Ninna Hedeager Olsen, the deputy mayor for Copenhagen's technical and environment department, is very pleased with the way things are going.
"When it comes to biowaste, phosphorous and many other elements can be reclaimed when we sort our rubbish, and that is good for the environment," she said.
Startups can be a challenge
It is always a challenge to implement rubbish recycling systems in cities where there are a lot of people living in flats. For Copenhagen, that means about 90 percent of its inhabitants. But once citizens realise the importance of collecting and sorting, it gives good grounds for optimism.
"The concept of biowaste is so logical and simple to explain that it is easy to start sorting. We hope to be able to use this as leverage to open everyone's eyes to the idea that rubbish is a resource that can be reused again and again," said Kristoffersen. "But we can't do that if everything is all mixed together."
Up until now, the idea has been that by 2025 the municipality would be recycling up to 45 percent of its rubbish, but politicians have now asked the department for a plan to raise this to 70 percent.
"We can see already now that the amount of sorted rubbish is really expanding, so I believe that when we produce new initiatives, our citizens will take to them," said Hedeager. She also added that it was encouraging to see that four out of five Copenhageners have agreed to take the new biowaste wheelie bins.