News
Excrement and vomit in the water a recurring problem at swimming baths
---
This article is more than 5 years old.
Swimming pools frequently have to close for cleaning due to unfortunate 'accidents' with nappies or sick todlers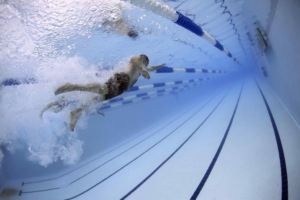 The idea of baby swimming is certainly a good one – children should get used to the water as soon as possible – but it can have an unfortunate downside
During 2017, traces of vomit and excrement in the water led to Copenhagen pools having to be closed 28 times, reports Politiken.
READ ALSO: Swimming pools in Denmark at risk of being closed down due to stricter rules
A telephone survey carried out by DR P4 revealed that 16 out of 17 swimming baths in the capital region had to close one of their pools at least once last year because of this problem. Only one of the municipality's baths had a completely 'clean' record.
Dissatisfied customers
It is a big problem for the baths because the pool has to be completely evacuated and a thorough cleaning set in motion that can take up to 32 hours.
"It's really irritating because we have to disappoint our customers and swimming clubs are unable to train properly," said Carsten Larsen, the head of the branch organisation covering swimming pools.
It is especially in the warm water pools used by babies and small children that the problem occurs. The swimming club KVIK in Kastrup, which has 2,600 members, has experienced the baby pool being closed 8-10 times within the last three months.
READ ALSO: Nasty bacteria thriving in municipal swimming pools
However, the problem is usually caused accidentally. "Nobody does this just to annoy people," Larsen told DR P4.
He recommends that parents give their children the correct swimming costumes and make sure that excrement stays in the special nappies worn during swimming.