News
Rainmaking creating a fresh space for future startups in Copenhagen
---
This article is more than 5 years old.
The Copenhagen Startup scenes gains a new base for budding entrepreneurs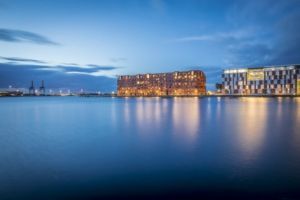 For business founders to be successful in Copenhagen they require cash, dedicated colleagues and, most importantly, a novel idea. However, they also need opportunities to establish relations with future corporate partners.
In 2010, Rainmaking created 'startupbootcamp' – a program designed to aid this process by bringing local business innovators together with potential financial backers.
The success of the concept led to Rainmaking creating three physical 'co-working' spaces: in London, Berlin and Copenhagen. These locations allowed entrepreneurs to not only easily source financiers, but also to work and socialise among each other.
Rainmaking will open a second space in Copenhagen on March 1 at Pier 47 on Langelinie quayside. This will have the capacity for 400 innovators, Martin Bjergegaard, a partner in the firm, told the CPH POST.
A new beginning
Bjergegaard explained that the company wanted to continue the ethos and practices first established at the Rainmaking Loft in Christianshavn.
"From the beginning we've looked to connect people in spaces that not only let them hang out, but also allow them to support each other's businesses," he explained. "This will continue at Pier 47 with a focus on supporting collaborations between scale-ups and corporate innovation teams."
However, Bjergegaard also demonstrated that the space had a range of new benefits for future clients.
"We're increasing our access to knowledge on innovation methodologies and emerging technologies," he disclosed. "Pier47 residents will have free access to a customised learning program that cover these topics."
Designed for Danish startups
Bjergegaard insisted that Pier 47 was making Denmark more attractive to global corporate partners.
"The Danish startup scene has momentum right now – especially in the realms of fintech and food, which attract newcomers [from outside Denmark]," he contended. "Our spaces have high concentrations of great startups and this talent pool leads to a culture based on entrepreneurialism."
Bjergegaard further argued that projects like Pier 47 were helping to strengthen the tech-startup landscape across Copenhagen.
"Tech startups make sense here because we have a very IT-savvy population, and with its size Denmark is an ideal test market for new companies before they go global," he explained.
"The high level of education in the country also means there are a lot of potential recruits for startups."