News
Metroxpress online and nearly 100 jobs cut in huge Danish media shakeup
---
This article is more than 5 years old.
Merger will see Berlingske Media axe mx.dk, aok.dk and business.dk, but will continue to run two newspapers: BT and BT Metro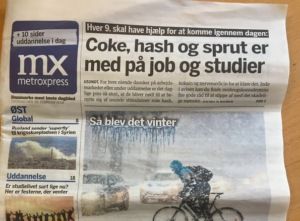 The leading Danish media group Berlingske Media has launched a comprehensive streamlining plan today that involves closing Metroxpress's online site mx.dk and slashing 93 jobs – about one tenth of its staff.
It's the first major shakeup since Anders Krab-Johansen became Berlingske Media's new head back on 1 June 2017.
"What we are doing now is basically a dramatic digital transition of Berlingske Media," he told MediaWatch.
"We have four central points, which will each see big changes, and I will dare to expound that we will be the most modern media house in Denmark by the end of the year."
READ MORE: Danes: Media were unfair to Prince Henrik
No more mx, AOK and business.dk
Aside from closing mx.dk, the media house will change the name of Metroxpress newspaper to BT Metro and close down its sites business.dk, aok.dk and the kids magazine Kids News.
For now, bt.dk will be the main page for the combination of BT and Metroxpress and it will be free, while the paper edition of BT will include fewer pages.
Berlingske's newsite will have a paywall of 99 kroner per month, while the paper edition of that newspaper will remain the same in size.
As part of the new plan, the production of newspapers will also be moved out of house to the company Wunderkind.