News
Denmark's ambassadors: base concerns
---
This article is more than 5 years old.
More women are attaining ambassadorial rank these days and the number posted to Denmark has greatly increased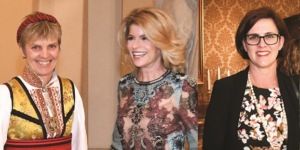 Exactly a quarter of Denmark's ambassadors posted to overseas missions are female following the most recent reshuffle at the beginning of 2018, which included 50 changes and a net gain of two.
Denmark continues to trail its Nordic cousins, for which the average is 36 percent. Finland leads the way with 44 percent, according to 2017 figures reported by the University of Gothenburg, followed by Sweden (40) and Norway (33).
It is well above the European average of 14 percent – a rate a long way behind Oceania (25), North (25) and South America (18), and Africa (17), but well clear of Asia (10) and the Middle East (6).
Six in, two out
Last year saw a huge surge in the number of female ambassadors based in Denmark. Six replaced male counterparts to represent Australia, China, Austria, Norway, Luxembourg and the USA.
In contrast, only two male ambassadors, Finland and Egypt, took over from female incumbents. Additionally, Ghana, Burkina Faso (both after fairly long gaps) and Morocco again opted for female ambassadors, as did the UAE when it opened its first ever embassy in Denmark.
It remains to be seen whether Serbia will continue with another female ambassador, but as things stand at the beginning of February, the percentage of female ambassadors has risen from 22.8 percent at the beginning of 2017 to 26.7 at the start of 2018.
The female rate is also pretty healthy outside Denmark, where 32 percent of the 75 'Danish' ambassadors posted in cities such as Stockholm, Brussels and London are female.
Stockholm's stranglehold
With 107 ambassadors based in Stockholm, compared to Denmark's 71, Oslo's 69 and Finland's 65, the Swedish capital is clearly the most popular Nordic city from which to oversee regional relations.
Some 24 ambassadors based in Stockholm are also responsible for Danish affairs, compared to just eight in Copenhagen who oversee Swedish matters.
The next most popular city for overseeing Danish affairs is London (20), followed by Berlin (14), Brussels (10), Oslo and The Hague (3 each), Paris (2), and Helsinki and Dublin (1 each). A further three are home-based.
In contrast, 11 of the ambassadors based in Denmark are responsible for Norwegian affairs, while nine are responsible for Finnish matters.
Mostly reciprocal
Very few European countries oversee their Danish affairs from another country. In total, there are 37 European ambassadors in Denmark. In contrast, perhaps with an eye on emerging markets in Africa and Asia, Denmark has 32 ambassadors in Europe.
Africa (14) and Asia (20) accordingly have more Danish ambassadors than their respective 11 and 15 representatives in Denmark, while the Americas (7) have two fewer.
The countries with Danish ambassadors that don't have an ambassador based in Denmark are: Ukraine, Afghanistan, Lebanon, Malaysia, Myanmar, the Philippines, Singapore, Ethiopia, Kenya, Mali, Mozambique, Nigeria, Tanzania and Colombia.
And the countries with an ambassador based in Denmark that don't have a Danish ambassador are: Armenia, Bosnia and Herzegovina, Georgia, Macedonia, Slovakia, Slovenia, Iraq, the Ivory Coast, Niger, Libya, Venezuela, Bolivia and Cuba.
At the time of going to press, Serbia and Mexico were in between ambassadors.