News
N.E.R.D and Pharrell Williams coming to Denmark
---
This article is more than 5 years old.
The War On Drugs and Body Count also new additions to potent line-up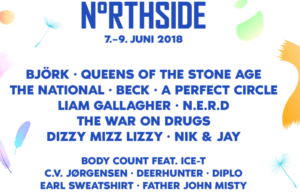 Earlier this week it emerged that those volunteering at NorthSide festival would have to pay a deposit this year as the festival wants to curb the number of workers skipping their shifts.
Now NorthSide has produced yet another incentive (to go and to skip your shift):  this time a positive one.
The festival has unveiled 17 new artists including three additional headliners for this year: US hip-hop group N.E.R.D featuring Pharrell Williams; US indie rockers The War On Drugs; and Body Count, the US metal/rap combo band with Ice T.
"We are perhaps broader than ever before in terms of genres and styles, and the overall result looks very, very exciting and something we are super proud of," John Fogde, the head of communications for NorthSide, told DR Nyheder.
"We can really see that our guests want to see the new big new international stars. So we're prioritising new international music ahead of a broad Danish range."
READ MORE: Volunteers required to pay deposits at Danish festivals
Cracking line-up
There are currently 41 bands lined up for NorthSide, and with the likes of Beck, Björk, Queens of the Stone Age, The National, A Perfect Circle and Liam Gallagher also headlining, it is promising to be quite the festival this year.
There are also some big Danish hitters in the mixer, including Dizzy Mizz Lizzy, CV Jørgensen and Nik & Jay.
The festival, which was first held in 2010, will take place at Ådalen in Aarhus from June 7-9.