News
Denmark could be far older than believed
---
This article is more than 5 years old.
Discovery in Italy sows doubt on prevailing conceptions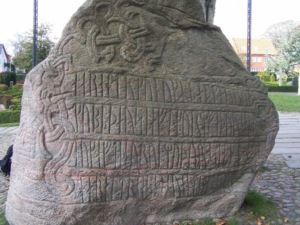 On the historic Jelling Stones in Jutland it is written how Harald Bluetooth conquered and united all of Denmark in the 900s. Until now, the ruins have offered the earliest mention of the Danes as a people.
But perhaps not anymore.
A new discovery in Italy could very well indicate that the Danes as a people had existed 400 years before Harald Bluetooth.
READ MORE: Immortalised on stone forever, the founding rock of the nation
Speedy, but thick
Kasper H Andersen, a historian and postdoc at Aarhus University, has examined gothic texts from Italy and found that the Danes as a people are already described in writings dating back to the court of the Ostrogoth king, Theoderic the Great, in the 700s.
"The Danes are characterised as being a very fast people … but they are not quite as intelligent as their neighbours to the south," is written in a text, according to Kristeligt Dagblad newspaper.
Moreover, the source of the stories in the text is 200 years older and hails from the years between about 470 and 526.
"I evaluate Denmark to already have consisted of a larger territorial frame already around the year 500," Andersen told Kristeligt Dagblad.