News
DMI warns of dangerous weather in south Denmark
---
This article is more than 5 years old.
Avoid driving if possible in certain areas … particularly if you're on summer tyres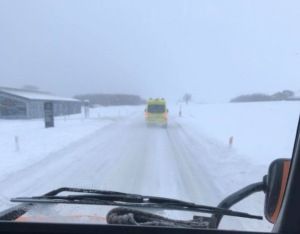 The national weather forecaster DMI has issued a warning concerning dangerous weather in the southern part of Denmark and Bornholm this morning.
DMI wrote that the blizzard-like conditions and strong winds could lead to the closure of rural roads, the formation of snow drifts, reduced visibility and the risk of halting traffic.
More specifically, the dangerous weather warning goes for southern Jutland and southern Funen, as well as all of Lolland-Falster, south Zealand and Bornholm.
The police suggested avoiding using the roads unless absolutely necessary as the snow is falling at a rate that snow removal vehicles are unable to keep up with.
"You can drive to work, but be very careful. It's very slippery out there," wrote the South Jutland Police on Twitter.
Be extra vigilant if you have summer tyres on your vehicle, adds the road directorate, Vejdirektoratet.
READ MORE: Wintry conditions hit Denmark
Record high … low
The news comes a day after the coldest temperature this winter was registered in Denmark: a -10.6 degree reading near Sjælsmark in Zealand.
It may sound freezing, but compared to other years, -10.6 degrees isn't really that cold. It's actually the fifth-warmest 'lowest temperature of the year' reading since temperatures started being registered during the winter of 1874-75.
The highest low temperature came in 1988-89 with a reading of -7.5 degrees, followed by -7.7 degrees in 2007-08 and 9.9 degrees in 1881-82.