Things to do
Concert Review: Terrific Tyga roars loudly in Copenhagen
---
This article is more than 5 years old.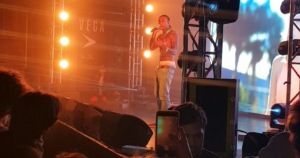 You've seen him on hits with collaborators Lil' Wayne and Chris Brown, you've seen him keeping up with the Kardashians and dating social media star Kylie Jenner.
And most recently Tyga was spotted at Store Vega, showcasing his impressive catalogue of hits and fun live show.
Fan of a fan
Tyga certainly rapped with energy – that was to be expected. He also showed off his footwork, getting fancy at times – it added to the atmosphere of the night.
Most of his new 'Kyoto' album finds Tyga singing using autotune. At Vega he also sang classic R&B tune 'You Remind Me' by Usher to a birthday girl as part of the festivities.
Speaking of fans, the self-proclaimed 'Fan of a Fan' frequently sang directly into phone cameras, delighting concertgoers.
For the smash single 'Bitches and Marijuana', he brought 15 women onstage. Confused male audience members who tried to join were promptly dismissed by security.
Killer Kyoto
The concert's intention was clearly to promote the newly-released 'Kyoto' album, so not all of Tyga's signature tracks were performed. For instance, the Chris Brown collaboration 'Deuces' along with Drake's 'The Motto' were noticeably absent.
'Loyal' got the crowd hyped the most as he commended the single people in the audience because as the song goes: these girls ain't loyal.
'Rack City', his biggest solo hit, warmed up the audience too, but he didn't close with this one. The track chosen as the final song and then encore was Kyoto's 'Temperature'. After all – this was the Kyoto tour.
All in all, this Tyga had real bite live – and we should give him a big hand for all the hits he has accumulated.
Forget keeping up with Kardashians – keep up with his growing catalogue of enjoyable music!