News
Danish hope unlikely to win an Oscar, but a favourite with distributors
---
This article is more than 5 years old.
Bookmakers don't expect 'The Last Man In Aleppo' to be the last man standing, but its success is undeniable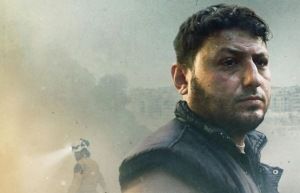 For many Copenhageners, watching the Oscars is a beginning-of-spring ritual – an indicator that the worst is over and that we can now start looking forward to warmer temperatures. And a Danish win only warms their hearts further.
This year, there is no real danger of either. The weather forecast remains a sub-zero degree affair for the foreseeable future, and the chance of a Danish production winning a golden statue this Sunday is remote.
But while the Danish-Syrian documentary film 'The Last Man In Aleppo' may be a rather lengthy 10/1 to win, television companies have wasted no time in acquiring the rights to broadcast it in 57 countries since its world premiere on DR2 last year.
Production politics
Footage for the documentary was captured between 2015 and 2016 during a time when the citizens of the Syrian city Aleppo were under siege, subjected daily to brutal bombings by the Assad regime and Russian forces.
Through footage captured first-hand by members of a citizen collective rescue service, the White Helmets, audiences come close to life, death and the daily struggles of Aleppo's citizens.
The director of the documentary, Syrian cinematographer Feras Fayyad, who is being hailed as his country's first Oscar nominee, has faced difficulties in preparing to attend the award ceremony this Sunday due to President Donald Trump's travel ban, which refuses entry to the US to people from Syria and seven other countries.
Accessing Aleppo
Streaming services, Netflix and POV included, have already purchased the award-winning documentary in anticipation of its major potential for success.
With more international contracts still under way, the film has been sold to providers in Britain, the United States the Middle East, and over 50 other countries.
Other Oscar hopefuls
Meanwhile, Denmark has two other chances of winning an Oscar.
'Strong Island' (22/1 with bookmakers), a film co-produced by companies in Denmark and the USA, has been shortlisted for the 'Best Documentary Feature' alongside 'The Last Man In Aleppo'.
Danish cinematographer Dan Laustsen (12/1) has been nominated for 'The Shape of Water'.
Meanwhile, Swedish film 'The Square' (7/4 second favourite), which stars Danish actor Claes Bang in the lead role, has been nominated as Best Foreign Language Film.