News
Science News in Brief: Ordinary infections don't damage young brains, study shows
---
This article is more than 5 years old.
In other stories, Denmark is servicing jet engines by app, cracking the code of antibiotics and attracting international research talent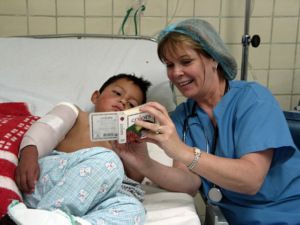 A new study carried out by researchers at Aarhus University has revealed that whilst severe illnesses that include long periods of hospitalisation can make it difficult for a child to pass their final exams at school, milder infections are harmless.
The study looked at almost 600,000 Danish children. "It has been proved in other studies that serious illnesses – such as measles, chicken pox or meningitis, which we tend to vaccinate against – affect the brain and accordingly the child's ability to learn," said Doctor Ole Köhler-Forsberg from the university. "In this study, we chose to look at the effects on children of less serious infections of the kind that many experience frequently during their childhood. This is, after all, the group that is in the majority," the doctor added.
The findings underlined how it did not matter if a child had needed medicine for an illness a number of times during their childhood. "That ought to reassure all the parents who experience that their small children are often sick. As long as it is only from milder infections, our findings don't show any risk to the child's cognitive development," said Köhler-Forsberg.
---
New app to service jet engines
Six students from the Technical University of Denmark (DTU) and Purdue University in the US have pooled their resources to create a new IT tool that can be used to service Pratt & Whitney jet engines. The brief was to structure and effectivise servicing and reduce maintenance costs. These are often higher over an engine's lifetime than the engine originally cost to buy. What started as a digital checklist ended up as a database with entirely new possibilities. "We added an interactive database that collects data from the app every time anyone uses it. This data can then be analysed to improve servicing, and also the engine," said DTU's Kristoffer Hansen. QR codes have been placed on the engine that through augmented reality can highlight parts of the engine inside the app and help the mechanics by the use of graphics and film clips.
DTU opens new antibiotics centre
A new research centre for microorganisms' antibiotic substances is being opened at the Technical University of Denmark (DTU). The Center of Excellence for Microbial Secondary Metabolites, CeMiSt, is designed to uncover how and why microorganisms produce penicillin and other antibiotic substances – so-called secondary metabolites. The centre will provide a platform for a new generation of researchers and hopefully enable new research both to discover new biological connections but also to invent new drugs with medicinal potential. Funding for the centre has been secured until 2023 with a possibility of it being extended for another four years after being evaluated by an international panel of experts.
Wanted: international research talent
A large-scale elite researcher program is being launched by the University of Copenhagen's faculty of science this autumn. The program aims to pull in young international talent and the university has partnered with the main Danish trade associations trying to attract and retain highly specialised labour from Denmark and abroad. According to the Confederation of Danish Industry, four out of ten Danish companies are struggling to find suitably-qualified employees, a situation that is expected to continue in the years ahead. At the moment, the shortages are especially acute in the STEM fields (science, technology, engineering, mathematics).