Things to do
Concert Review: Kendrick Lamar brings his 'A' game to the Arena
---
This article is more than 5 years old.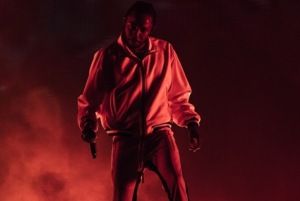 Kendrick Lamar's DAMN tour is, in a word, an experience. The Danish leg was at a sold-out Royal Arena – and Kendrick had the arena rocking all night. At one point in the show he said: "This is a memory we will cherish 20-30 years down the line."
Concert-goers would certainly have to agree. Just to make the audience feel unique, he told the story of his first time in Copenhagen in 2013 – he complimented the crowd back then.
With chants of "Kendrick" filling the air – the modest, or as the song goes 'HUMBLE', rap superstar calmly said: "Make some noise for yourselves."
Kudos to Kung-Fu Kenny
The unrivalled amount of classic music Kendrick Lamar has accumulated over a relatively short period is nothing short of astonishing. His catalogue is so strong – the audience seemed to each have their own ultimate favourites that they got the most amped up about.
To add to the outstanding quality of the show, there could at any given time be a swordsman or acrobat onstage and, of course, he made a mini movie based on his nickname Kung-Fu Kenny, which was played throughout.
Each hit was like its own timestamp, reminding you of emotions from when the song came out: from the thought-provoking 'Swimming Pools' to the uplifting 'Alright'.
The energy never dropped for a second and the audience literally got "Those goosebumps every time". It was a legendary evening courtesy of a once-in-a-generation talent.