News
International News in Brief: Battling to save our marine environment
---
This article is more than 5 years old.
In other news, Sweden is doing its bit to 'save the world' and New York State could be a saviour for Danish wind energy interests in the States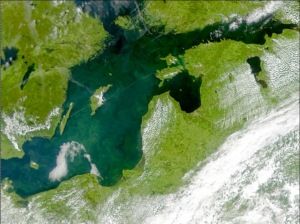 Danes are at the forefront of two initiatives to save our marine environment from pollution – one on our doorstep in the Baltic, and another in the Atlantic Ocean just south of Ghana.
Crunch time in Gulf of Guinea
A new project conducted in the Gulf of Guinea off the coast of Ghana, which will assess the effect of pollution on marine life, is being led by researchers from DTU Aqua with funding from the Foreign Ministry.
DTU Environment and Danish firms COWI and LITEHAUZ are also involved, as well as several African players.
Primarily looking at the pollution caused by ships (oil, sewage and ballast water mainly) and heavy industries on land (particularly heavy metals), HOTSPOT is hopeful the acquired knowledge will help the Ghanaian authorities better legislate against polluters – particularly those in the shipping and mining industries.
DTU Aqua has extensive experience working in Greenland, but in much warmer waters the team expects to encounter harmful processes caused by pollution that are occurring much faster.
The threat of algae in the Baltic
Meanwhile, an ongoing conference in the Polish city of Gdansk is assessing how the marine environment of the Baltic Sea is running out of essential oxygen, reports Videnskab.
The problem is primarily caused by the increased presence of algae, the consequence of which has been the release of harmful nutrients into the sea such as nitrogen and phosphorus.
The algae eats into the sea's oxygen supply, leaving less for other plants and fish, which consequently die.
Nevertheless, the situation is improving, according to Bo Gustafsson, a marine environment researcher at Stockholm University.
---
Child-rapist Dane handed two life sentences in South Africa
Peter Frederiksen, a Dane arrested in 2015 in South Africa and charged with 36 counts of murder and sexual abuse – including the rape of a child – has been handed two life sentences. Other charges included arranging the murder of his ex-wife, illegal arms trafficking, child pornography and the bribery of a witness. The case has been a macabre one ever since the police discovered 21 clitorises in a freezer in Bloemfontein three years ago. A mental examination of the Dane, which postponed the judgment from last November, revealed that Frederiksen has psychopathic tendencies.
New York State's welcome news for Danish wind energy companies
Danish wind energy companies are queuing up for a piece of the action after the New York State Energy Research and Development Authority (NYSERDA) confirmed plans to service the energy needs of 1.2 million homes in the state with power from wind turbines. "Denmark is a key partner for us," confirmed Doreen Harris, the head of Large-Scale Renewables at NYSERDA, to DI Business. "Danish wind farms can contribute with experience and knowledge, which will make it easier for us to implement our plans."
Nordic region to host another summit
Following Iceland's hosting of the famous US-Soviet Union summit in October 1986, the Nordic region could once again be in the spotlight. It is speculated that Sweden could end up hosting a summit between North Korea and the United States or, at the very least, mediate between the countries ahead of talks between their two leaders, Kim Jong-un and Donald Trump – a role it has become accustomed to in recent years. The North Korean foreign minister, Ri Yong-ho, visited Sweden yesterday – a trip that Pyongyang officials described as being for "bilateral relations and issues of mutual concern". Sweden is not a member of NATO.