News
Siteimprove named AmCham's 'Transatlantic Company of the Year'
---
This article is more than 5 years old.
Award given for company's scintillating growth in the US in recent years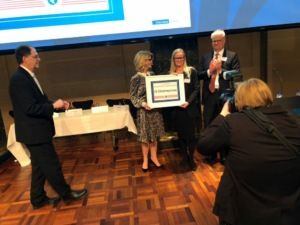 The multinational software-as-a-service company Siteimprove has been named '2018 Transatlantic Company of the Year' by the American Chamber of Commerce in Denmark.
The AmCham jury lauded Siteimprove for its impressive growth in the US over the past three years, which has seen the company increase its revenue in the US market from 8.1 to 28 million US dollars and raise its number of employees by close to 300 percent.
"Siteimprove's US activities are in rapid growth in a complex software market – and are also the company's fastest-growing business compared to the rest of the world," said Jørgen Bardenfleth, the spokesperson and chairman of the AmCham jury.
"The fact that their US business makes up 61 percent of the company's combined activities show that Siteimprove is fully committed to the US."
READ MORE: AmChampagne moment as US chamber of commerce stalwart turns 60
DABF merger
The US ambassador to Denmark, Carla Sands, was at hand to present the award during the event, which was hosted at Danske Bank's Copenhagen headquarters.
Siteimprove beat out competition from Ørsted, SimCorp, KMC, Weibel Scientific and Leo Pharma to garner the prestigious prize.
In related news, AmCham has confirmed it is merging with the Danish-American Business Forum (DABF).
Current DABF services will be incorporated into AmCham as a committee entitled 'Access USA', which will continue to help Danish companies gain a foothold in the US market.