News
Danish shipping fearful of US-China trade dispute
---
This article is more than 5 years old.
Billions at stake as clouds gather over maritime transport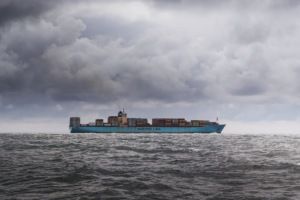 The newly-sparked trade war between the US and China is being viewed with concerned eyes by the Danish shipping industry.
The dispute, which flared up yesterday after the Donald Trump administration decided to level trade sanctions on China – including restrictions on investment and tariffs – could seriously impact Danish maritime.
"Together, they make up about 40 billion kroner of maritime transport exports annually, so that's a worrying development for the Danish shipping companies," Jakob Clasen, the head of shipping association Danske Rederier, told DR Nyheder.
"We have about 4,000 dockings in each of the two countries, so if their trade is reduced, it will impact our activities and opportunities."
President Trump said that the sanctions and tariffs on Chinese goods worth an estimated 60 billion US dollars were in response to the US losing millions of jobs to China.
READ MORE: Government launches ambitious growth plan for shipping sector
Chinese consternation 
Late last night, China then responded in kind, warning of a similar tariff on US goods worth about three billion kroner. Included were tariffs of 25 percent on pork imports and 15 percent on steel piping.
"We are concerned whether this is a snowflake that snowballs into an avalanche in which more goods are impacted by the tariffs. We worry that it'll escalate into a broader trade war that will ultimately reduce world trade," said Clasen.
Should the trade between the US and China significantly shrink, finding other countries to pick up the slack is paramount to Danish shipping.
The trade war news wasn't good for the Danish finance sector either as the shares of leading Danish companies, including Maersk, Danske Bank and Novo Nordisk, fell sharply this morning.