Things to do
Onstage in late March/early April: The perfect Easter treat!
---
This article is more than 5 years old.
And don't miss the Copenhagen Improv Festival, which is getting bigger every year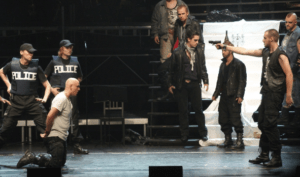 Jesus Christ Superstar
March 30 & 31, 19:30; Købnerkirken, Shetlandsgade 6, Cph S; 150kr, billetto.dk
April 14, 20:00; Kulturhuset Kilden, Nygårds Plads 31, Brøndby; 125kr, oplevbrondby.billetexpressen.dk
This is a rare chance to see an English-language musical being performed live in concert.
From the moment the heavy rock chords of the overture take over the auditorium, or in this case a church, you'll know you're in for something special.
'Jesus Christ Superstar' is the one Andrew Lloyd-Webber musical that even his biggest detractors find impossible to dislike.
Everyone tends to have their own favourite song. From the title track to the show-stopping 'Gethsemane', to the jolly 'King Herod's Son' to virtually every song featuring Judas and Caiaphas, this is a musical star's dream project to work on.
Teatret Gorgerne wowed all-comers when they last performed 'Jesus Christ Superstar' at Tivoli almost a decade ago.
They will have learned from that experience, so expect another evening of top-level entertainment.
Elektra
ongoing, ends Sun, performances at 19:00; HIT, Huset 4th floor, Rådhusstræde 13, Cph K; 120kr; huset-kbh.dk
How do you follow a farce about a French cad three-timing air stewardesses? With a Greek tragedy, of course!
Following the success of Boeing-Boeing, CBS Theatre has moved on to Elektra, a dark thriller set after the Trojan War in which a princess avenges the death of her father, King Agamemnon. Exactly! It's where we get Elektra complex from: the pyschology involved when a woman falls for a man like Dad.
This play demonstrates how twisted a child's mind can become when they see their loved ones betray each other. (MA)
The Exterminating Angel
March 23-May 6; Operaen, Ekvipagemestervej 10, Cph K; 150-925kr, kglteater.dk
Inspired by a 1962 Spanish surrealist film, this English-language opera from award-winning composer Thomas Adès tells the unfolding story of how a mysterious curse descends upon a party of diners and prevents the guests from leaving. (DW)
Copenhagen Improv Festival
March 27-31, 20:00; ICC Theatre, Frederiksholms Kanal 2, Cph K; 170-210kr; improvcomedy.eu
Now in its fifth year, the annual festival will feature 150 international performers as 20 international teams gather for a celebration of unscripted laughter and fun. Who will emerge triumphant in the end? Apart from the audience. (DW)
Roma Music Festival
April 8, 11:00; DR Koncerthuset, Ørestads Blvd 13, Cph S; 65kr, under-15s free adm
They're everywhere, but how much do we know about their music? As part of a series of events celebrating different cultures from around the world, guests will be invited to experience the dance, music and art of the Romani people. (DW)