News
Spirited gun control demo held in Copenhagen
---
This article is more than 5 years old.
March For Our Lives events are being held across the world today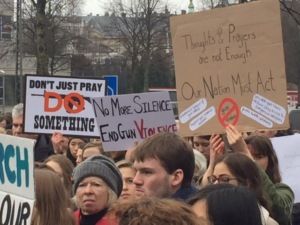 Hundreds of people turned up just across the road from the US Embassy in Copenhagen today to participate in the March For Our Lives event.
It is one of many such events being held across the world today in a bid to support the US students and their stand against gun violence at their schools and universities.
As the crowd gathered, a stirring rendition of the iconic American tune 'The Land Is Your Land' rang out across Dag Hammarskjölds Allé, setting the stage for an emotional couple of hours.
Donning signs with anti-gun and NRA slogans, the peaceful congregation heard a number of tear-inducing speeches, including from Americans who are currently studying and living in Denmark.
"Our generation will be the one to end gun violence. And to everyone listening today, as we step into the future, let's make sure we're on the right side of history. Let's make sure we stood up for students and not guns. Enough is enough!" said Samantha Horowitz, a student who is in Copenhagen as part of the DIS program.
READ MORE: Peaceful march for US gun control to be held in Copenhagen
Gathering momentum
Similar March For Our Lives events, organised in the wake of the Parkland, Florida school shooting on February 14, are being held in Berlin, London, Paris, Madrid and Dublin – to mention a few European cities,
Meanwhile hundreds of thousands of people will march later today across the US.
In fact, they will be turning up, as Woody Guthrie sang, "from California, to the New York Island. From the Redwood Forest to the Gulf Stream waters …" and beyond.