News
Danish News in Brief: Majority back 125 percent cigarette price hike
---
This article is more than 5 years old.
In other news, enough Danes back a plan to cut ministerial pensions, but will a majority of politicians?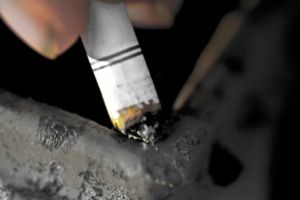 Some 59 percent of Danes support raising the price of cigarettes to the same level as in Norway where a pack of 20 costs 90 kroner, according to an Epinion poll for DR.
The raise would correspond to an increase of 125 percent as a pack currently costs around 40 kroner.
As many as 39 percent totally agreed with the rise, while 26 percent disagreed. Karsten Lauritzen, the tax minister, confirmed to DR there were no plans for any "significant increase".
Smoking rat shit
Despite the cheap prices the illegal smuggling of tobacco products continues to take taxes away from the state – an estimated three-digit million kroner amount every year.
The justice minister, Søren Pape Poulsen, is planning a new bill with tougher penalties for smugglers, those selling the contraband and those making counterfeit cigarettes (normally pretending to be the Prince brand), which could be harmful to smokers.
As well as containing far more tar and nicotine than is permitted, they often contain sawdust, tobacco beetles, and camel and rat shit.
---
Parliament split over proposal to cut ministerial pensions
Parliament remains divided over a proposal to remove advantageous pensions for former ministers. The bill has been proposed by a regular citizen – in line with the introduction of new legislation this year, providing the bills gain a minimum 50,000 signatures – and it recommends replacing the ministerial pension with a regular occupational pension. Just one year of ministerial service earns the occupant a life-long pension, starting at 78,191 kroner per year and rising for every year served up to a limit of eight, by which time it is worth 326,389 kroner before retirement age and 282,979 after.
Autism classes a "dustbin" for disruptive children
The country's autism association is concerned that kids with hyper-behaviour diagnoses – for example, ADHD – are being put in classes alongside severely autistic children. The number of special classes in regular schools is on the rise across Denmark, with plans for 11 new classes in Aarhus for the 2018-19 academic year alone. However, autism association chair Heidi Thamestrup has told DR the classes are being used as a "rubbish bin for children unable to thrive in a regular class".
Sentences handed out in cocaine smuggling case
Five young men from the western suburbs of Copenhagen have been handed prison sentences of six or seven years for their role in the smuggling of cocaine into Denmark from the West Indies. The five smugglers were all arrested in May 2017. Two of the men are not Danish, the court in Glostrup heard, and one has affiliations to a biker gang. Three other men were handed lesser sentences after being found guilty of other crimes connected to the case.
Ten WWII shells found on Jutland beach
A tourist walking on the beach in Haderslev in southern Jutland spotted a number of suspicious looking items over the Easter weekend, and a subsequent search revealed at least ten World War II shells in the sand. The area had previously been used as a firing range, but it was believed it had been properly cleared. It is suggested that strong easterly winds might have dug up the shells from the seabed.
High-speed internet made available to uninhabited islands
The government is wasting millions of kroner on providing high-speed internet to uninhabited islands, reports Berlingske. Some of the islands have been uninhabited for 20 years, but not according to the out-of-date data used by the authorities.
Avocados and bananas galore
Large quantities of avocados and bananas have been washing up on the shores of Samsø following a collision between a container ship and a freighter some 30 km north of the Great Belt Bridge on March 27. Two containers fell into the sea, but at a depth of 35 metres it is not believed they pose a threat to marine traffic.