News
Coastal erosion is gradually expunging Denmark's cultural heritage
---
This article is more than 5 years old.
It is not only summerhouses that are falling into the sea as a result of climate change; historical sites are also vulnerable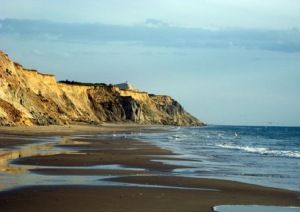 Danish archaeologists are increasingly worried that knowledge about the past will be lost because legally-protected historical sites near the coast are disappearing into the ocean during winter storms.
The problem is becoming so acute that the Danish agency for culture and palaces, Slots- og Kulturstyrelsen, has decided to put an action plan into place that initially involves registering 'at risk' sites, reports DR Nyheder.
A washout
Climate change appears to be one of the major culprits as the storms have become more violent in recent years.
It is estimated that there are about 32,000 legally-protected historical sites in Denmark and around 700 of them are less than 50 metres from the sea.
One example is a large Viking burial ground at Rubjerg in north Jutland that is gradually falling into the sea.
"We've made some exceptional and irreplaceable finds here. Knowledge can be lost and probably already has been, so we need to gather as much information from there as we possibly can," said Marlena Haue, the head of Vendsyssel Historiske Museum.
Vital cultural heritage
"Ancient sites play an important part as a source in order to understand Danish culture," added Pernille Frederiksen, an archaeologist from the agency for culture and palaces.
Registration should give an overview of the problem and, more importantly, how quickly erosion is taking place in different parts of the country.
"That's why we've chosen to monitor the sites nearest the coast very closely over the next year so that we can minimise the loss of knowledge from disappearing sites," said Frederiksen.
When the registration phase has been completed, the agency will work on finding a solution to the problem, which is not expected to become less acute in future.