General
Restaurant Review: Goa crazy for South Indian cuisine's delectable dosa
---
This article is more than 5 years old.
The South Indian in Frederiksberg served up a succulent taste of what the chain's six restaurants in Denmark have to offer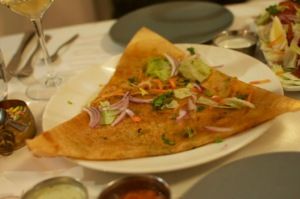 Indian cuisine isn't particularly well-known for its finger-food in Europe. Sure, we're all familiar with samosas, bhajis and pakoras as precursors to having something really hot – a stay of execution, some might say – but few restaurants have embraced the sub-continent's street food and made it the star of the show.
The South Indian has bravely done exactly that with the 'dosa' – a tasty, affordable filled pancake, served with dips and dumplings and best enjoyed in an informal setting. Conducive to socialising, diners tear away the edges, working their way around the protein filling like a culinary game of Jenga, strategically making sure they don't run out of dippage on the way.
It's been so popular that the owners have already opened seven restaurants across Denmark, so isn't it time you found out what all the fuss is about?
A palace for the palate
Within the walls of a pale green building, nestled among Copenhagen's bustling city streets, resides a welcome refuge from the cold: the South Indian Frederiksberg, which as well as the dosa offers other traditional Chettinad staples.
Although unique specialisations are offered at each venue, they all prepare essential staples for those seeking a classic South Indian experience. A wide selection of dishes, long-established recipes and an elegant atmosphere provide restaurant-goers with a dining experience that treats the palate.
Delectable dosa
Although the menu boasts a variety of starting options, the dosa reigns supreme as the restaurant's specialty. Select from a wide range of fillings – from basic choices like butter or egg to more adventurous offerings such as chicken or chocolate – that are served between two crisp, triangle-shaped pancakes made out of a lentil and rice dough.
Each fresh, sliced, crisp, gluten-free dosa is topped with a vegetable garnish and accompanied by three distinct dips. Each sauce supplements the dish in a different way: the coconut chutney adds a sweet tang to each bite, while the vegetable and tomato dips complement and cool the flavour.
For those with bottomless stomachs, choose the all-you-can-eat option and feast on dosa combinations of all kinds.
Aromatic alternatives
For an alternative beginning course, it is worth exploring 'the 65's', a compilation of newer dishes with a special combination of spices that are just as delicious as their more traditional counterparts.
The shrimp dish is a classic south Indian take on seafood, while the fresh cauliflower or paneer options are perfect for a hungry vegetarian. The restaurant can even personalise the spice level to individual tastes, but do not be afraid to embrace the heat!
Lavish courses
The extensive number of items might require multiple trips to this source of fine south Indian dining. The Chettinad chicken masala presents a spicier option for those seeking a bolder but well-established choice and the spinach chicken offers a milder, but equally delicious meal.
Menu listings kathirikkai kara kulambu, a seasoned eggplant curry, and paneer masala, a seasoned cheese dish, also provide tasty meat-free options.
And the restaurant's naan bread cannot be beaten – the buttery, golden brown bread breaks away easily between the fingers and melts in the mouth.
And for dessert, try the kulfi: light Indian ice cream in mango, pistachio and original flavours, which provides the perfect ending to a delicious night.