News
Computerised food waste reduction systems may lead to shortages on shelves
---
This article is more than 5 years old.
The greater efficiency being shown by the retail trade in cutting down the amount of good food being thrown out has succeeded all too well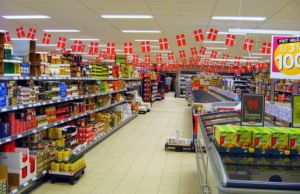 A new PhD project carried out by researchers at Aalborg University and Norway's Teknisk-Naturvitenskapelige Universitet has been zeroing in on improving systems used by supermarkets when ordering food.
READ ALSO: Supermarket chain ups its efforts to reduce food waste
Run in a number of Coop shops in Norway, the research project revealed that the amount of waste fell by 10 percent when the shops used computerised ordering systems to buy perishable goods such as meat, milk and vegetables – like they already do for dried goods, reports Politiken.
Sorry, we're fresh out of that!
However, one of the side-effects of this greater efficiency was that shops sold out of certain lines quicker.
"If a supermarket sells 10 items from a particular line every day but sometimes sells 15, the question is whether they ought to buy 15 to be sure that the item is always in stock," said researcher Kasper Kiil from the Institut for Materialer og Produktion at Aalborg University.
"The computer system would recommend purchasing the lesser amount as it would lead to less wastage, but that would have an impact on consumers," added Kiil.
On the other hand, the goods in question will be fresher. Automated purchasing systems mean goods being on the shelves for a shorter period and reaching consumers faster. "If you buy a lettuce that can last a week instead of two to three days, the chances of you throwing it away at home are less," he said.
If a particular item happened to be sold out, Kiil suggests that consumers would probably buy something else in the same category.
Telling the right story
It is also a matter of communicating with customers in the right way. "It might seem irritating if you can't get what you have come for, but if the shop tells its customers that the item is sold out in order to avoid wastage, they are often willing to go along with that," said Marianne Levinsen, the chief researcher at Fremforsk, the centre for future studies in Aarhus.
She points out that consumers have changed their buying habits substantially in the 10 years that food waste has been on the agenda. "Now you see customers who specifically look for goods where the sales date is about to expire and which have been reduced in price," added Levinsen.
We're getting better
The Dansk Supermarked chain that comprises Netto, Føtex and Bilka knows from surveys that one of the things that customers find most irritating is not being able to buy something that they have come in for.
"When it comes to avoiding food waste, it is very important to buy in correctly and have the right goods on the shelves at the right time. Luckily, we're always improving on that front," said the press officer from the supermarket chain, Kasper Reggelsen.