News
Copenhagen co-hosting photo 'marathon' that places focus on cross-cultural relations
---
This article is more than 5 years old.
Taking part in Denmark, Egypt and Palestine, the event is designed to promote awareness via the distribution of participants' pictures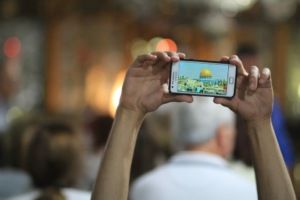 In modern life, it has become the norm to make sense of the world through the sharing of images – whether via email or Instagram.
However, the organisers of a new event want us to explore how visual interpretations change when pictures are taken by different people, living in alternative places.
On April 21, the Tri-City Photo Marathon will give residents in Copenhagen, Cairo (Egypt) and Ramallah (Palestine) the chance to simultaneously capture images on the same themes.
The organisers hope the initiative will both promote cross-cultural dialogue and allow participants to engage with others' photographic content.
How will it work?
The competition is specifically designed to test the competitors' creative stamina, as it will run for ten hours.
On the strike of each hour, participants will be given a theme that they will use to construct their photograph – with either a smartphone or a digital camera.
After the ten hours are completed, the competitors will send their pictures to a local jury based in either Ramallah, Copenhagen or Cairo.
These judges will then distribute prizes to those who they believe have produced the best photo series.
A picture of significance
The competition is slated as a fun event in which anyone, regardless of their abilities, can take part. However, organisers also view it as a thought-provoking exercise.
"This year's competition is a moment to reflect on the impact of images on our lives – in our diversified social and political contexts," explained Muna Bur, Copenhagen's event manager, to CPH POST.
"As a novel cross-cultural collaborative photography competition, the Tri-City Photo Marathon aims to foster community building and connect the alternative cities through mass photography," she contended.
However, Bur also stressed that the outcome of the event was less than certain.
"We consider this competition to be an experimental visual endeavour that may surprise with its results," she disclosed.
"It may yield evidence showcasing the extent of our shared perspective and values, but it may also demonstrate our differences."