News
Dreaded birch pollen season begins with promise it will be bad if the weather remains warm
---
This article is more than 5 years old.
Newcomers often caught out by allergy that affects close to one in five Danes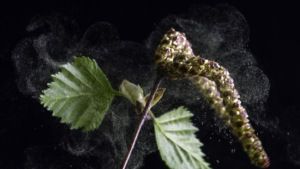 The dreaded birch pollen season started today in Denmark with readings of 138 and 162 particles per cubic metre in Copenhagen and the Jutland town of Viborg.
The one-month season is expected to peak at the end of April, by which point the counts will have increased considerably.
On occasion they can reach as high as 1,000, or even 4,000 as was the case a decade ago – which is extremely high when you consider 50 is considered a bad day for most hay fevers.
Could be a bad one if it stays warm
However, despite the high opening day counts, Astma-Allergi Danmark would appear to believe the unusual weather of late – which saw April open with snow showers after a colder than usual March, but then suddenly get much warmer – will not lead to particularly high birch pollen counts this year.
"It's hard to predict how this birch season will be," chief pollen counter Karen Rasmussen told Astma-Allergi Danmark. "If the hot spring weather continues, as is suggested, we may be in for a bad season."
Furthermore, Astma-Allergi Danmark suspects that yesterday's counts might be the result of pollen from overseas birch trees entering Danish airspace thanks to a prevailing southerly wind.
New arrivals should beware
Birch pollen allergy often catches out new arrivals to the country, as the counts are particularly high and often affect people who had never previously suffered from any kind of hay fever.
If you are new to Denmark and have been suffering from flu-like conditions over the last two days, you are best advised to call or see your doctor and get medication – the Flixonase nasal spray is among the recommended treatments, as are antihistamine tablets or eye drops. It's a question of finding the one that works best for you.
Before you dismiss the notion and insist you have spring flu (like last April!), remember that there are 1 million sufferers in Denmark, so your chances of being among them are just under 20 percent.