News
Lars von Trier invited to return to Cannes seven years after Nazi drama
---
This article is more than 5 years old.
Meanwhile, Danish director explains Nazi drama in new interview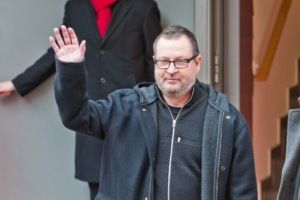 Controversial Danish film director Lars von Trier has been invited to return to the Cannes Film Festival seven years after he was kicked out of the festival for uttering a Nazi remark during a discussion event.
Von Trier's latest film, 'The House That Jack Built' (starring Matt Dillon, Uma Thurman and Denmark's Sofie Gråbøl), will enjoy its worldwide premiere at the festival, although it won't be among those in contention for the awards.
Trier said in a newly-released video by the Louisiana Channel (see below – Cannes bit starts 17:20 minutes in), in connection with winning the Sonningprisen Award, that his Nazi statement was taken out of context – the result of giving up on an argument with somebody persisting with their opinion.
"That's something you say to each other when you're in a discussion and the other won't give up. Then you say: 'Okay, have it your way' or 'I'll let you be right if you leave me in peace'," he said in the interview.
"But I could just as well have said that I was a blue caterpillar with a sunflower sticking out of my ass … It's most likely what I should have said."
READ MORE: Zentropa's swashbuckling leadership culture under fire from foreign producers
No laughing matter
Von Trier has been considered a persona non grata at the festival since 2011 when, in connection with a panel discussion regarding his film 'Melancholia', said that he sympathised with Adolf Hitler.
The Dane said his statements were meant as a joke, but the organisers of the festival failed to see the humour, stating that his words were "unacceptable" and against the ideals of the festival.
Von Trier then apologised, an apology he later retracted, describing the episode as being "really stupid" whilst contending that the Holocaust was the worst crime ever committed.
Until then, the director had won a number of awards at the French festival, including a Palme d'Or in 2000 for his film 'Dancer In The Dark', which starred Icelandic musician Björk.