News
NorthSide among top-ranked festivals in Europe
---
This article is more than 5 years old.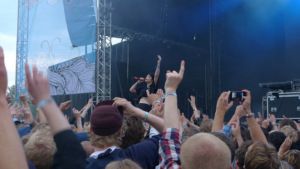 NorthSide has been included on a list of the 10 best festivals in Europe by the British magazine Grazia.
"Ever since it nabbed Radiohead as a headliner in 2017, there's been a lot of buzz about NorthSide: not bad going for a festival that was only in its 7th year," praised Grazia.
"Staged in Denmark's second city of Aarhus – which was named European Capital of Culture last year too – it is within walking distance of the city centre and features both local and international acts, plus plenty of street food offerings."
No criticism
However, Grazia failed to mention how the festival was criticised for failing to make enough provisions for the rain, which poured down relentlessly in 2017.
READ MORE: Going south: fewer guests, smaller budget
And it was also lambasted for having too many guests.
Looking ahead
Grazia elected instead to look forward to the next edition, which is scheduled to take place from June 7-9.
"Hoping to replicate last year's success, Northside has recruited Liam Gallagher, The National, Beck and N.E.R.D. to headline this year and will no doubt attract even more Brits thanks to the appeal of all things Scandi right now," it concluded.
NorthSide's committee takes an ethical approach to its organisation, running the festival according to three core values: international and national music, visionary innovation, and sustainability.