Things to do
May Art: Germany's best kept secret wasn't the V2
---
This article is more than 5 years old.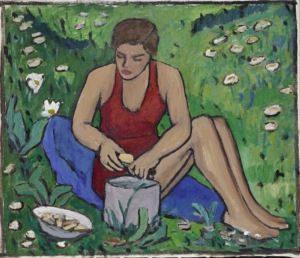 Gabriele Münter was a photographer before she started painting in 1900, and she also best known for her drawings, watercolours and prints, as well as photographs. However, she was not considered an important figure in modern art until very recently.
Born in Berlin in 1877, Münter lived in several countries across the world, including the USA, Sweden, and Denmark – so it is fitting to see her work exhibited here.
The exhibition at Louisiana is the first comprehensive presentation of the artist's works, and it covers her entire active period.
Among the approximately 130 works on display, many are being shown to the public for the first time.
---
#Whatif?
ongoing, ends May 20; kunsthalcharlottenborg.dk
Internationally-renowned artists such as Renzo Martens, Lara Baladi and Forensic Architecture ask hefty questions such as "What if art could eradicate poverty?" and "What if we could live without fossil fuels?"  (DW)
Consumed Future Spewed Up As Present
ongoing, ends May 27; overgaden.org
Lea Gulditte Hestelund is interested in how human bodies are ascribed meaning in contemporary western societies. In this solo exhibition she explores this topic through mysterious scenarios taken from science-fiction plotlines.
Vogue like a Painting
May 5-Aug 26 ; glstrand.dk
The exhibition explores the intersection between fashion-photography and the fine arts. The images come from Vogue's archives – taken by world-renowned photographers such as Nick Knight and Annie Leibovitz. (DW)
Decoration of the Montana Room
ongoing, ends Feb 2019; glstrand.dk
The Danish artist duo Randi & Katrine, who began collaborating back in 2004, combine architecture, objects and narration to create large, immersive installations. This new work takes the macaw as inspiration. (DW)
Picasso Ceramics
ongoing, ends May 27; louisiana.dk
Picasso is known for his paintings. However, this 160-piece exhibition instead demonstrates his tremendous talents as a ceramic artist. The display also marks Louisiana's 60th anniversary. (DW)
Very
May 17-Aug 18; louisiana.dk
Ed Ruscha's work comprises powerful and iconic representations of post-war American society. This exhibition will demonstrate his take on the cool elegance of gas stations and Hollywood logos from the 1960s onwards. (DW)
The Executioner
ongoing, ends June 10; smk.dk
This large-scale installation lets you explore Ursula Reuter Christiansen's film through pictures, sound and objects. The German-born artist also worked with the gallery to review feminism themes present in the movie. (DW)
Hieroglyphs – Symbolist Drawings 1890-1910
ongoing, ends Aug 12; smk.dk
The exhibition showcases over 100 works of art from a time when draughtsmanship came to the fore. Among the notable featured artists are Jens Lund, JF Williamson and Johannes Holbek. (DW)
Judith Hopf in the X-room
May 10-Sep 9; smk.dk
Hopf has been working with video and sculptures since the 1990s. In this exhibition, she will create a selection of new 'laptop sculptures' from metal – along with a moving image display. (DW)