News
Culture News in Brief: Roskilde sells out fast, but can't match 1996
---
This article is more than 5 years old.
In other news, TV2's version of 'X Factor' is shaping up to be more than a match for DR, but 'The Rain' ain't no 'Walking Dead', concludes the Danish media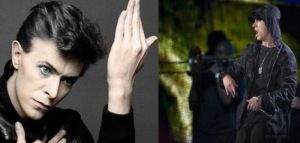 The Roskilde Festival has sold out in almost record time – only one-day tickets remain.
The addition of headliners such as Eminem and Bruno Mars has resulted in the festival's second-fastest ever ticket sales.
In its 47-year history, only 1996 sold out faster – an insane year that included David Bowie, Björk, the Sex Pistols, Alanis Morissette, Foo Fighters, Red Hot Chili Peppers, Pulp and Nick Cave, who is also performing this year.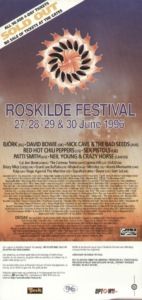 Eminem the difference
One-day tickets for Thursday, Friday and Saturday remain, but unsurprisingly the tickets for Wednesday, on which Eminem is scheduled to perform, sold out shortly after he was confirmed.
Among the other acts performing this year are Gorillaz, Massive Attack, Dua Lipa and David Byrne.
This year's festival begins on Saturday June 30 with the music starting on Wednesday July 4.
---
DR loses crown jewel in 'X Factor' switchover (and it ain't Baldy)
DR could end up regretting its decision to stop broadcasting 'X Factor' as Sofie Linde, the show's host since 2016, has decided to go freelance to continue presenting it on TV2. Like many presenters on DR who go on to front big shows, the 28-year-old learned the trade working on children's TV. She had been with DR for ten years. Long-serving judge Thomas Blachman has also confirmed he will be continuing on TV2.
Literally putting herself into her art
Lina Hashim, a 39-year-old artist originally from Kuwait who is currently a student at the Copenhagen Academy of Fine Arts, has been adding an usual shade of red to her palette: her own blood. Hashim's preferred medium is painting on photos, and she has incorporated her own blood into several images of suicide bombers. She explains to DR that her art is seeking to ask whether there is a connection between Islam and such martyrdom, suggesting the media needs to start finding out more about the people who are choosing to die in such a way.
The Rain is more like drizzle, concludes Danish media
For once, a highly-anticipated Danish television series hasn't been given rave reviews by the country's media – but then again, it was financed with American dollars by Netflix. Despite scoring a respectable 65 on Metacritic thanks to some upbeat reviews from international media such as The Atlantic and Collider (4/5 from both), Politiken felt it was an "unsuccessful bid" for young adult audiences that was too similar to 'The Walking Dead'. And Ekstra Bladet gave it only 3/6 stars for a story that is "not good, substantive or original enough".
The day Pilou failed to meet Messi
Pilou Asbæk has hinted that two of his fellow cast members in 'Game of Thrones' don't like the Barcelona football team very much, but he's not saying who. Given the chance to meet the squad in their dressing room away at Seville in 2016, two of the cast members vetoed the idea for everyone – much to Asbæk's disappointment as he was going "bananas" at the idea. It was at the same game that Asbæk was photographed sitting next to countryman Nikolaj Coster Waldau, prompting one wag on Twitter to comment: "When your sister forces you to spend time with her new boyfriend."
Bonamassa to rock the Opera House
Blues superstar Joe Bonamassa is bringing his acclaimed show to the Copenhagen Opera House on September 19, further bolstering a strong autumn that will see US hip-hop Flatbush Zombies playing at Pumpehuset on October 6 – ticket sales start at 10:00 on May 11 at livenation.dk. The last month has seen four other significant concert announcements: US soul singer, Leon Bridges (Vega; Oct 29; 310kr); US rapper Bas (Vega; July 17; 210kr); Icelandic electronic band GusGus (DR Koncerthuset; Oct 18; 250kr) and David Crosby from Crosby, Stills & Nash (DR Koncerthuset; Aug 27; 375kr).