News
Danish cops kick off nationwide anti-speeding campaign
---
This article is more than 5 years old.
Over 1,600 tickets handed out on first day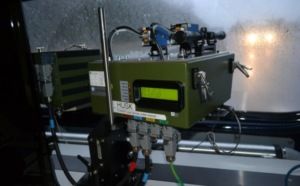 Speed demon drivers on Danish highways and byways are paying the price.
Speed traps on over 200 stretches of road across the country yesterday nailed 1,600 drivers on the first day of an anti-speeding effort.
About 1,500 drivers were flashed by those pesky photo wagons, while another 100 were caught by hand-held police radar devices, according to Christian Berthelsen from Rigspolitiets Nationale Færdselscenter, the national police transportation centre.
Smile for the camera, Speedy
The photo wagon on the motorway to the Storebælt near Korsør caught over 140 speeding drivers in just two hours. The fastest motorist was clocked at 153 km/h. The speed limit in that area is 110 km/h.
Berthelsen told DR Nyheder that speeding is a factor in over half of all fatal traffic accidents.
"We are set up primarily at places where many have been killed and injured," Berthelsen said.
Fines not the aim
Berthelsen said the aim of the campaign was not to collect fines, but rather to encourage people to  slow down and save lives.
"It's about reducing the number of killed and injured, and it's about ensuring every one is safe in traffic."
READ MORE: Danish motorists drag police into court over speed cameras
The police have even provided a list of the most dangerous stretches of road in each area of the country. Motorists on these stretches can expect an extra eye on them this week. Some of the roads on the list have been added due to requests from citizens.
"It encourages us to look at new stretches that might be a problem," said Berthelsen.