News
Motorist injured by stone thrown from overpass at Danish-German border
---
This article is more than 5 years old.
Tuesday night attack injures driver and slows traffic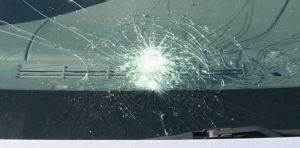 A female motorist was seriously injured last night by a stone dropped from a German highway bridge just south of the border with Denmark near Padborg in southern Jutland.
The granite stone, measuring 25 x 25 cm, smashed through the window of the motorist's BMW, injuring the driver.
Flensburg police told TY Syd that the injured woman was able to reach the side of the road after the attack, which occurred at 22:00 on Tuesday.
The 58-year -old woman from Slesvig-Holsten was then taken to a hospital in Flensborg.
Not an isolated attack
The stone was dropped on German highway A7 from an overpass at Ellund, just south of the E45 crossing at Padborg.
Cleanup work in Germany created a traffic jam on the Danish side for cars headed south. Police redirected traffic headed to Germany so that it passed through Padborg between midnight and 02:00 on Wednesday morning. Traffic at the border crossing is now back to normal.
READ MORE: Another stone dropped from a motorway overpass on a Danish ambulance
Another stone was dropped a half hour earlier from an overpass in Germany 10 kilometres further south down the A7 in Schleswig-Holstein.