News
Hats off to Hornskov – keeping the flame alive in Christianshavn
---
This article is more than 5 years old.
Seen in the merciless light of modern business logic the old saying 'mad as a hatter' might be thought applicable to anyone entering the trade, but a revival could be just around the corner on the men's hat front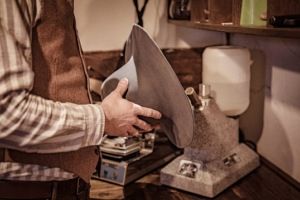 Examine any photograph of a crowd scene from say the Victorian era until the 1960s. One of the things that strikes the viewer most forcibly is the preponderance of male headgear.
The hat was a classless accessory that no man worth his salt would go out without, from the cloth cap of the workman to the opera gibus worn by the toff-about-town.
All this seemed to change pretty much overnight in the more egalitarian and practical '60s. For one thing, the ceilings in cars got lower so hats were a bit of an inconvenience.
However, a few stalwarts like myself still hold the hat in great affection, so it was with some considerable interest I recently discovered that there was a hatter working in Christianshavn.
Young man blues
Peter Robert Hornskov is 28 years old and looks as if he would blend in extremely well in one of the town's hippest craft beer bars. What, I wondered, prompted a young man like him to enter what might be thought to be a pretty fuddy-duddy and precarious profession?
Hornskov confessed that he was smitten with the romance – and sheer coolness – of hats by seeing films in which the heroes wore them: Humphrey Bogart, Alain Delon and Harrison Ford – the iconic hat in the Indiana Jones films was a particular favourite.
What really made him take the plunge was a combination of discontent with his then-occupation as a hairdresser and seeing a YouTube video on which someone made a hat.
"When I saw the video it spoke to something in me. I thought if he can do it, so can I! So then I just started," said Hornskov.
Trial and error
It was not easy, though. For one thing, there was only one hatter left in Copenhagen who had been formally trained and he didn't seem to want an apprentice. So Hornskov went round second-hand shops buying up hats in bulk for a few kroner and taking them apart to see how they were constructed.
As well as dismembering second-hand hats he also had to make a lot of his own tools, as well as the wooden blocks on which the hats are formed. After ordering some materials, he made his first couple of hats and put pictures of them on Instagram. They were an instant success.
To begin with, there was an awful lot of trial and error. "I can show you the first hat I made and you can see there is a great difference … but I can still remember how proud I was that I'd made it," added Hornskov. "From this to where we are today – there has certainly been a great deal of progress."
One of the major challenges was finding out how to acquire the right materials. Nowadays, Hornskov is in the fortunate position of being able to buy his felt from the premier manufacturer in the world in Portugal. To start with, though, the business didn't have enough capital to do this, so it had to make do with buying from a middleman in Germany.
Only tear drops
My reason for visiting was not just interest, though. After having seeing their website, I had decided to order a hat for myself – a so-called 'tear drop', so I asked Hornskov how the process starts.
"You start with what is called a hat body or hat blank," said Hornskov. This is a felt blank that looks like a hat but is floppy and unfinished. They come in different colours and sizes depending on the size of the finished hat and how tall the crown will be.
After Hornskov had taken very exact measurements of my head, we discussed the model that I wanted, the ribbon colour and whether I'd like anything written on the leather sweatband. Cathrine Hornskov then registered all the details on her computer, I paid, and we were in business!
Robert's wife Cathrine is his partner in all senses of the word. She handles the business side, marketing and registration customer orders. A lot of their business is mail order.
Over 70 percent of their hats are exported, primarily to America, followed by Germany, France, Switzerland and Belgium. Denmark comes rather lower down on the list.
Begins duly and blockheads
To begin with, a suitably sized and coloured hat blank is steamed to make the felt warm and damp and then pulled over a wooden block of the correct size. There are some special tools needed to manipulate the felt and make sure that it fits really tightly over the block.
Then it is left to dry for around 48 hours. This is what gives the hat its strength.
Next, Hornskov irons the brim. "Then I use my rounding jack to cut the brim and it is ready to be taken off the block," he explained.
Bands, buckles, bows
The next step is to sew in the sweatband. These are made for him by an Italian company and Hornskov has a special contraption to sew the band into the hat, which is a copy of an old sewing machine.
I suggested that it must have been rather expensive. "Yes! It was very expensive. It's made of cast iron and comes from America. There are a lot more hatters over there and there is a much bigger hat culture," added Hornskov.
"Now we have to sew the hat band on, and that depends on what the customer wants. Sometimes they want something vintage so it could be a case of going to a flea market and finding something suitable."
I've often wondered how you make the bow, I confessed.
"That took me a long time to work out, but it is actually quite simple," he said. "It's a question of tying it correctly. You can make a number of different styles, but as a rule, it is part of the hat band. That's the way I like to do it. However, a lot of hats have it in two parts. The band is one piece and the bow is sewn or even glued on after."
Crowning glory
After that, the hat is more or less finished, but one important detail remains: forming the crown. Hornskov does this using steam and completely manually, although there are machines that can do the job.
"I think – as do many of my customers – that there is a certain charm in having a hat that is unique because it is handmade," he said.
"Even though I've had a lot of practice by now, I can't make them exactly alike every time. I like the idea that it looks as if it has been made by human hands."
Taking pride in his work
The all-important question was how is the bottom line? Hornskov said that they were doing better than ever. The company has only existed for three years, so it has taken a while for people to find out about it.
He also averred that their product was much better than when the firm started because he has got better at it and they also have much more control over the felt quality they use. It also takes less time to produce a hat than it did to begin with.
Hornskov is very proud of his hats. "I would claim that our hats are some of the best in the world quality-wise," he enthused.
There is also more interest in the trade. He said that they get around one application per month from someone who would like to learn to become a hatter, but unfortunately many of the applicants would like a job and the business can't sustain that as yet.
Heads – and hats – up
I put it to him that the main problem is that there are still not many people who wear hats.
"I think that will change," he countered. "There's always people like you and me who wear them and I don't think interest is falling off."
Having taken delivery of my steel grey 'tear drop' with maroon silk ribbon and lining and gold-blocked sweatband, I can only say that I wish them all the very best.
It is definitely one of the smartest and well-made hats I own and I'm happy to be a part of preserving and extending the life of a noble tradition – as well as looking pretty sharp.
Here's looking at you, kid!