News
Danish west coast could become training region for NATO fighter jet
---
This article is more than 5 years old.
Denmark has been designated as a possible training centre for northern European F-35 combat aircraft.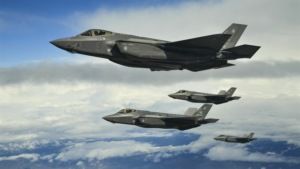 The American defence company Cubic Defense Systems has published advanced plans to establish a central training and command centre in Denmark for all northern European F-35 combat aircraft, according to Jyllands-Posten
Flyvestation Skrydstrup  in Haderslev has been designated as a training and simulation environment for combat aircraft from several countries. Up to 80 combat aircraft from Great Britain, Holland, Norway and Poland and other countries would participate in advanced NATO exercises in Danish skies over the North Sea.
Deal inked
The announcement came from Cubic head Mike Knowles, which, in collaboration with the US Department of Defense and the Pentagon is responsible for the development of the training programs for the F-35 combat aircraft.
Cubic has already signed a cooperation agreement with Haderslev Municipality, which plans to house the new training center at Flyvestation Skrydstrup.
READ MORE: Denmark getting ready for all new F-35 fighter jets
According to Haderslev's mayor, H.P. Geil, the agreement is a "milestone" that can pave the way for new jobs and growth. He promised residents that the exercises will not increase the level of flight noise in the area.
Danish government on board
The Danish Defence ministry told Jyllands-Posten that the government is optimistic  about the plans and promised that environmental considerations will be included in any final draft of the agreement.
The F-35 fighter program has previously met with great criticism both because of its high noise levels and cost overruns.