News
Lars shocks them at Cannes
---
This article is more than 5 years old.
'The House That Jack Built' spurs walkouts … but the Danes still love him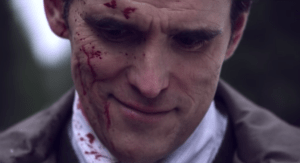 Lar von Trier's latest movie, 'The House That Jack Built', prompted horrified groans and more than 100 walkouts during its premiere at the Cannes Film Festival on Monday night.
"Disgusting."
"Brutal."
"Shocking."
Such were the comments of patrons fleeing von Trier's film.
'The House That Jack Built' follows a serial killer (Matt Dillon) as he mutilates and strangles his primarily female victims. The movie is extremely graphic. The scene that started the exodus showed Dillon's character blowing the heads off of two small children with a hunting rifle.
By the end of the film, the balcony of the theatre was half empty.
Danish love
While acknowledging that the film was controversial, the Danish press and pundits put a more positive spin on the evening's events. They were quick to point out that although 100 or so people bolted, 2,400 patrons hung around until the end to give the Danish favourite son a prolonged standing ovation.
Danish actor Ulrich Thomsen also had nothing but praise for the film.
"I think it's amazing," he told DR Nyheder. "So it's violent, but I think it's good."
Thomsen said he thought the film was "artistic" and that von Trier was like a "sculptor".
Press reviews pending
Gala guest Jana Krivenkaja from the Czech Republic immediately vaulted 'The House That Jack Built' to the top of her Lars von Trier list.
"The movie is overwhelming," she said. "It is probably one of my absolute favourite Lars von Trier movies."
Previously films at Cannes had been viewed at a morning press screening. Cannes did away with that tradition this year, mandating that critics wait until the next day to see late-night movies. 'The House That Jack Built' will be viewed by the press today. Two of the film's co-stars, Riley Keough and Uma Thurman, didn't attend this year's festival, citing scheduling conflicts.
The trailer for 'The House That Jack Built' can be viewed following this article. It is extremely graphic.