Things to do
On Screens: Nepotism, cronyism and car-shagging – happy days with George's mate
---
This article is more than 5 years old.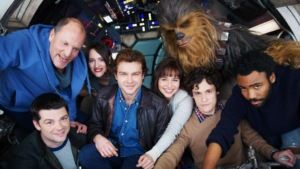 Ron Howard's got good taste, right? We can trust him with an origins film about one of history's most beloved ever movie characters, Solo: A Star Wars Story (Not Released Worldwide; out on May 23). Sure, he made Far and Away and The Da Vinci Code, but A Beautiful Mind and Rush were on the money, right? We can trust him …
Howard's end away
Well, did you know he's given all of his children middle names that reflect where they were conceived – an idea so naff even Victoria Beckham lampooned it.
It started well when their eldest, the actress Bryce Dallas Howard (yes, from her mother), was sparked into existence (not on a casting couch, although Mum has been in ten of Dad's films) in full view of the Texas School Book Depository.
The next round of Howard's end away took place in Manhattan – which could be confusing if they end up as waitresses (however unlikely with Dad's nepotism). Ron duly named his twins after the Carlyle hotel he smashed their mother in. And finally, his fourth child was named after the street the car (some kind of American Graffiti fantasy?) was parked in. Classy!
Strike while she's hot
One can only presume the parents of British actress Holiday Grainger were on a club 18-30 and too drunk to remember. Her star is clearly on the rise, and in mid-May she's in two mega HBO series worth checking out.
The first, CB Strike (May 18), is based on the detective novel JK Rowling wrote under a pseudonym, which was turned down by several publishers unaware of who the real author was. Once it was revealed Rowling wrote The Cuckoo's Calling – an early review praised "the male author's ability to describe women's clothes" – sales rose by 507,000 percent. The three-parter TV adaptation was acclaimed when it was first shown in the UK last autumn, and another two books in the series have already been adapted.
The second, Patrick Melrose (May 14), is a five-episode miniseries starring Benedict Cumberbatch based on a series of semi-autobiographical novels by Edward St Aubyn written about his privileged upbringing and drug addiction in Europe and New York. Each episode takes on a novel and the early word is strong.
In Ricky's footsteps
Another British actor going places is Ralph Ineson, who many will remember fondly for playing Finchy in The Office. His stateside break came in The Witch, and he is following that as one of the leads in The Hurricane Heist (35; May 31). As the name suggests, a gang decide an incoming storm will offer good camouflage for their robbery. We'd like to say you'll be blown away. You won't.
Also from The Office, but with slightly more success, Martin Freeman brings some clout to the Australian post-apocalypse thriller Cargo (Netflix, May 18). Mad Max suggested that bikers would be the most likely survivors, but this film (probably quite sensibly) sticks with the Aboriginals.
And staying on the themes of Ricky Gervais and the nepotism/cronyism of Ron Howard (did you spot the link to George Lucas?), it would be neglectful to not mention that Warwick Davis joins quite a cast in Solo: A Star Wars Story that also includes Emilia Clarke, Thandie Newton and Donald Glover. Tellingly, perhaps, they are all hot properties right now due to their appearances in TV series (Game of Thrones, Westworld and Atlanta) not films.
For Davis, it will be his fourth Star Wars role. Not only did he play Wicket the annoying Ewok in Return of the Jedi, but he plays a dwarf smuggler in The Force Awakens and The Last Jedi and a dwarf sniper in Rogue One – proof there's no shortage of dwarf roles in Star Wars.
More dead ringers
Elsewhere, there's not much beyond Solo this fortnight, with only four other films coming out, of which three are heading straight to the small screen. And all of them have a sense of déjà vu.
Deadpool 2 (NRW; May 16) is back for seconds of whatever that surprisingly popular and violent superhero flick honed in on before.
Ibiza (NRW; May 25 on Netflix) might not be a sequel in name, but it's undeniably spawned by Bridesmaids. Three American women want to walk a cool DJ (Richard Madden from GoT) down the aisle, but didn't they see what happened at the Red Wedding?
Fahrenheit 451 (NRW; May 20 on HBO) starring Michael B Jordan and Michael Shannon is the third film adaptation of the Ray Bradbury classic. It won't be the last.
And The Tale (88; May 27 on HBO) is another journey into the memory of a woman played by Laura Dern. We're still trying to get over Inland Empire and they give us this?
Keep on dreaming
Finally, we have two unpromising US comedy series.
The Break with Michelle Wolf (Netflix on May 27) is a showreel for the star of The Today Show who recently upset Trump's press secretary, Sarah Huckabee Sanders, at the White House Correspondents' Dinner with some well-written, but poorly delivered comparisons to The Handmaid's Tale.
And All Night (HBO since May 12) is set at an overnight graduation party where students set in motion plans to make their dreams come true.
For many, a dream that has been alive ever since Harrison Ford strode into their lives in cowboy boots in 1977 is about to be realised – entrusted into the suspect hands of a director who conceived one of his children in a Volvo.